This post may contain affiliate links.
Grapefruit and Pomelo Peanut Lettuce Wraps
Grapefruit and Pomelo Peanut Lettuce Wraps/Bites are a great way to make the most of citrus season.  We just finished citrus season here in the Houston area.   The bright sweet pulp against the flavor of roasted peanuts makes for a fun hand-held treat with a crispy romaine lettuce wrapper.  We had just done a pomelo salad, so we had left over pomelo and grapefruit to use.  If you happen to have an abundance of citrus, you might want to make this a mainstay for citrus season.  This recipe is highly customization and naturally pretty healthy, with whole food ingredients.
Choosing your Protein
So, I found the inspiration for this recipe from the cookbook Bangkok, by Leela, Punyaratabandhu, also the author of shesimmers.com.  You can find her recipe on page 46 of the book.  She uses shrimp for the recipe but you can adapt of course and I tried it with mackerel, which we prudently had in a can with Corona Virus forcing us indoors.
Using nuts as the protein
You can use peanuts instead too.  I enjoyed these with mackerel but no one else did and after I reheated them I didn't either.  The club mackerel was designed for hand held snacks like this so I guess it's just one of those subjective things.  Mackerel is a fatty fish with lots of the good omega fatty acids we are supposed to be eating but also smells strongly of fish.   You have to be a fan of mackerel.   I think the re-roasted peanuts are the best part of this recipe so you could just double that and it would be more neutral.
Choosing the citrus
Traditionally, people use pomelo in Thailand for these type salads but you can use whatever you have.  I was surprised how well the pulpy pieces of fruit go with the other ingredients.  As long as you can separate the pulp, I can't imagine even large navel oranges wouldn't be okay for this recipe.
Recipe Rehab
As usual, we change what we can to make it healthier, so here are a few things I changed.  For the oil we went with canola as the healthiest of vegetable oils.  You can see a breakdown of why it's so healthy here.  I got rid of the salt and sugar completely.  Changing from shrimp is a little healthier too if you are worried about cholesterol.  We usually don't worry about shrimp too much because that's not a problem for us, your situation may require other alterations though.  There are peanuts in this so if you are allergic you will obviously want to avoid those. We are working on our own, rehabbed chili paste recipe but we don't have that up yet so we used this, Panthai Chili Paste.  Stay tuned for a healthier version.   You can, of course, just leave that out to reduce processed ingredients.
For the Lettuce
In the book, she used the lettuce to make bites.  We played with that and it is a cute option if you want it as an hors d'oeuvre, side dish or appetizer.  In the United States, we have had lettuce wraps at popular restaurants like Pei Wei for a while.  You can use iceberg lettuce or romaine lettuce wraps to make this more similar to that.
Garnish
I started with sliced, stir-fried fresh garlic and shallots like she used in her pomelo salad bites recipe but decided to leave it out.  I decreased the oil significantly this way.  You can still use it by starting the stir-frying with it before you add the other ingredients and add in a couple more tablespoons of oil.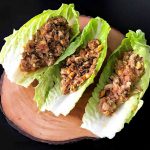 Print Recipe
Pomelo Grapefruit Lettuce Wraps
Pomelo Grapefruit Lettuce Wraps are a super healthy Thai style vegetable dish with a peanut chili flavor and crisp lettuce wrapper. It's a relatively easy recipe without too many ingredients and it's totally adaptable.
Ingredients
Citrus
1

Grapefruit

Pulled apart into pulp fibers

1

Pomelo

Pulled apart into pulp fibers
Other ingredients
1

cup

peanuts

unsalted

1

tablespoon

coconut flakes

2

tablespoon

canola oil

1

tablespoon

lime juice

1

tablespoon

Thai peppers

2

tablespoon

Chili paste

1

Romaine lettuce heart
Instructions
In the wok, toast the peanuts without oil until brown and fragrant and then chop into smaller peanuts with a knife or in a food processor. I used a coffee grinder and got the effect in the image.

Toast the coconut flakes until light brown as well and place on a plate or bowl

If you want to add fish, shrimp or other fish stir-fry it now, with the oil. If you use mackerel, like I did, chop it up with the spatula and stir fry until cooked, about 2 minutes or more to be safe.

Add in the oil and stir-fry in the nuts and coconut and other ingredients other than the citrus for a few more minutes and then remove from heat.

Combine the pulpy segments of the citrus fruits and mix and then place on the lettuce and serve as hand held bites.
Notes
As always, nutrition is one of the most manipulated and bastardized sciences in existence for people out to make a quick buck.  We are not nutritionists or dietitians.
Our mission at healthythairecipes.com was born from my trying to rehab my wife's native Thai recipes to be as healthy as possible for both of us.  We like the whole foods, avoid processed ingredients approach.  What is healthy for us may not be healthy for you though as your situation is fact dependent.  I like to say, when in doubt, check it out with a doctor or dietitian, if you have concerns.  When it comes to food safety, When in doubt, throw it out, if you think an ingredient is questionable.  
Let us know how we can make our healthy Thai recipes healthier in the comments section below. Nutrition calculations are an estimate.
Nutrition
Calories:
1573
kcal
|
Carbohydrates:
121
g
|
Protein:
46
g
|
Fat:
114
g
|
Saturated Fat:
17
g
|
Sodium:
48
mg
|
Potassium:
2902
mg
|
Fiber:
25
g
|
Sugar:
21
g
|
Vitamin A:
3067
IU
|
Vitamin C:
494
mg
|
Calcium:
233
mg
|
Iron:
7
mg
We need all the help we can get, spreading a more healthy mindset.  Please share your thoughts in the comments section below, and, by all means, share our posts as well.
If you like this recipe, you should also check out one of these.