This post may contain affiliate links.
The Starbucks Golden Ginger Drink is one of my new favorites at my favorite chain. I have bought it at least 6 or 7 times now and the ginger and turmeric are soothing to my stomach at this uncertain time with covid-19 in the world. I decided to try to make this at home as ginger and pineapple are very tropical and Thai style ingredients and I need to save money.
Figuring out whole food ingredients to use
I went to the Asian market looking for something to use and came up with a few things that taste similar. You are going to, of course, use fresh pineapple and ginger and come pretty close but I wanted a little more flavor and used a ginger honey tea powder. You can leave this out and have a pretty simple and whole-food version though.
I went to Starbucks and asked them what they use and this is what the guy told me for a large, vente.
-6 pumps pineapple ginger syrup
-4 scoops golden ginger powder
-1 ½ cup coconut milk, the kind you buy next to soy milk in the refrigerated section of the store
Making my own syrup
So the first thing I had to do was figure out how to make a syrup and I was in luck because Martha Stewart has already figured that out with her version here. I just had to modify it a little to make it healthier. Here is what I came up with.
Putting it all together
The next steps can be really simple if you are a purist. Add the pineapple syrup with the coconut milk and call it good. This uses the least processed foods. Otherwise, you can add in a packet of ginger honey tea crystals to approximate what Starbucks does with their powder. With that said, getting the yellow color was the hardest part. I had to play with the amount of pineapple and it may also vary by how bright your pineapple is. Also, when you do things from scratch with whole foods you don't get the benefit of food colors restaurants use for effect.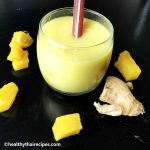 Print Recipe
Copycat Starbucks Golden Ginger Drink
Our Copycat Starbucks Golden Ginger Drink is a simple, whole foods approach to make the delicious drink at home using your own ingredients. It is an approximation of course and as always, we started from scratch to make our own version, with whole foods ingredients.
Equipment
Sauce Pan

Sharp knife

Shaker or mixer
Ingredients
1

teaspoon

turmeric

4

cups

water

1 ½

cups

pineapple

rind and core

1

teaspoon

stevia

1 ½

cups

Coconut milk

Carton kind
Notes
As always, nutrition is one of the most manipulated sciences in existence for people out to make a quick buck.  We are not nutritionists or dietitians.
Our mission at healthythairecipes.com was born from my trying to rehab my wife's native Thai recipes to be as healthy as possible for both of us. 
We like the whole foods, avoid processed ingredients approach.  What is healthy for us may not be healthy for you though as your situation is fact dependent. 
I like to say, when in doubt, check it out with a doctor or dietitian, if you have concerns. 
When it comes to food safety, When in doubt, throw it out, if you think an ingredient is questionable.  
Let us know how we can make our healthy Thai recipes healthier in the comments section below. Nutrition calculations are an estimate, calculated by a computer.
Nutrition
Calories:
799
kcal
|
Carbohydrates:
43
g
|
Protein:
8
g
|
Fat:
73
g
|
Saturated Fat:
64
g
|
Sodium:
95
mg
|
Potassium:
1066
mg
|
Fiber:
4
g
|
Sugar:
24
g
|
Vitamin A:
144
IU
|
Vitamin C:
122
mg
|
Calcium:
122
mg
|
Iron:
13
mg
Please share our content and help us continue to grow. 🙂
If you like this recipe, you might also like one of these
Healthy Copycat Mango Dragonfruit Starbucks Refresher Recipe