This post may contain affiliate links.
Coconut Lemongrass Pepper Steelhead Trout is a really simple, delicious way to do something different with a fish dish.  You will see a lot of fish dishes on my site because they are easy and popular.  It is also a chance for me to teach someone how to buy seafood sustainably.   It also gives me a chance to teach a bit about the longevity of pescatarians.  Someone told me there was a sale on Steelhead trout at our local market and I realized I didn't know much about it at all.
About Steelhead Trout
I had never heard of steelhead trout before this last month.  Steelhead is also called coastal rainbow trout and redband trout.  If I had ever heard of it, I don't remember anyway.  Trout has always been one of my favorite fish for the light flaky meat and ease of preparation.  Depending on where you get it, it is also one of the ones you don't have to worry about mercury poisoning with.  They are in danger in some areas and introduced to other areas so it is good to check the sustainability before buying.
Making Sure It's Sustainable
With fish, there are several species that have been pushed to the brink of extinction.  Orange roughy, for example, was not well understood until it was almost too late.  They live to be 100 years old a lot of the time and have a longer reproduction cycle too so they were pulverized.  You can check by simply googling, seafood watch.  Once on the page, you will want to search by species, here is the link for Steelhead trout. There is disagreement on what is sustainable, when a fish is farm-raised there is an argument, especially with this species that it is bad.  I recommend this video, Artifishal, if you are interested in the topic of evolutionary ecology.  They are arguing that we are devolving the species which will hurt other species up the food chain.
My Adaptable Recipe
You can make this however you want really.  The person who told me about it just placed the fish, skin side down on foil at 400 degrees for 25 to 30 minutes with olive oil, salt, and pepper on both sides.  You can add the sauce if you like as well as pictured below.
Doesn't get much simpler than that.  I just made simple coconut lemongrass and Thai pepper sauce to top it with and then used lemons and cilantro to garnish.  You could really just use any of those on their own and still come out with good results.  Even light coconut milk has a bit of saturated fat.  You can mitigate that by just topping with thin-sliced lemongrass and Thai pepper before cooking.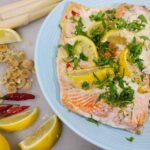 Print Recipe
Coconut Lemongrass Pepper Steelhead Trout (ปลาเทราท์อบกะทิเลม่อน)
Coconut Lemongrass Pepper Steelhead Trout is a super easy way to change up your fish routine with tropical flavors.
Equipment
Oven

Baking Sheet

Aluminum Foil

Mixing Bowl
Ingredients
2

pounds

Trout

Stealhead, Or whatever fish you wish

1

tablespoon

olive oil

or canola oil to be more like traditional Thai
The sauce
½

cup

Lemongrass

Finely sliced

2

cups

coconut milk

light coconut if possible

4

Thai peppers

or more if you wish
Toppings
1

tablespoon

black pepper

2

lemons

thinly sliced wedges

½

cup

cilantro

leaves separated from stems
Instructions
Heat the oven to 400 degrees and prepare a baking sheet with aluminum foil covered in olive oil.

Place the fish, skin side down on the foil and lightly cover with oil.
Sauce
Mix the sauce ingredients with a food processor, blender, or whatever you have.

Cover the fish with the sauce.

Cover the baking sheet with aluminum foil.

Bake for 30 minutes and top with the toppings and lemon juice.
Notes
As always, we are not dieticians.  If you have concerns about your nutritional needs contact your doctor as your situation is fact dependent. 
Nutrition
Calories:
619
kcal
|
Carbohydrates:
12
g
|
Protein:
50
g
|
Fat:
43
g
|
Saturated Fat:
25
g
|
Polyunsaturated Fat:
4
g
|
Monounsaturated Fat:
11
g
|
Cholesterol:
132
mg
|
Sodium:
136
mg
|
Potassium:
1243
mg
|
Fiber:
2
g
|
Sugar:
2
g
|
Vitamin A:
320
IU
|
Vitamin C:
39
mg
|
Calcium:
146
mg
|
Iron:
8
mg
Please share on social media to spread a healthy mindset.  🙂
If you like a fish dish, check out one of these.
Please share and comment!