This post may contain affiliate links.
Thai Fish Curry Noodles (Kha Nom Jeen Nam Ya)
Thai Fish Curry Noodles, or Kha Nom Jeen Nam Ya, is a relatively easy, traditional Thai dish I make over and over again.  You can't beat the seafood, so common in the country with so much oceanfront property.  I make it easy and healthy with my recipe.  I think you will love it, and if you don't you can adapt it until you do.

Thai Fish Curry Noodles
In Thai cuisine, there are so many kinds of curries that you can serve it with noodles.  Curries are most likely to serve with steamed rice, but sometimes it can be substitute with noodles like vermicelli.  Kha Nom Jeen Nam Ya or Thai fish curry noodles is one of Thai traditions curry that serves with vermicelli noodles, fresh or steamed vegetables, and boiled eggs on the side.
Kha Nom Jeen Nam ya is locally from the central part of Thailand.  The curry is made of spices and herbs such as lemongrass, shallots, garlic, galanga, rhizome, dried Thai peppers, fish, and coconut milk.  Sounds like a lot isn't it? And that's what I feel with my life at this moment too.  I tremendously miss Kha Nom Jeen Nam Ya but also have the feeling not to have enough energy to cook everything from scratch.  I'm talking about starting from boiling the herbs and fish and muscly pound those herbs, take the fish bones out and grind the meat. My Oh My!  Fortunately for the Measri company that makes all kinds of Thai curry paste and sauce.  They also make Kha Nom Jeen Nam Ya paste which makes my life much easier when I am craving this Thai food.
Instant Kha Nom Jeen Nam Ya
The fortunate thing about living in a big city melting pot like Houston is we can find any type of grocery store and food around the world.  We find the Nam Ya paste at the Asian grocery store close by our place, and I am very thankful for that.  The reason I name this recipe "Instant Kha Nom Jeen Nam Ya" because it is super easy like when I make instant noodles.  All I do is boil water and add the Nam Ya paste into the pot, cook the vermicelli, boil the eggs, and prepare the vegetables to eat with curry sauce.
What do you need for Thai fish curry noodles or Kha Nom Jeen Nam Ya
You'll need the Measri Nam Ya paste, Asian vermicelli noodles, eggs, green beans, beansprouts, fried garlic and dried Thai chili (these two for garnish, texture, and if you want to make the food spicier). You can buy the dried vermicelli from any Asian grocery store.  Some big American grocery stores like Kroger also carry them too.  The one next to us even has the brown rice kind which is awesome!  Alright, I think it's time to make the food.  Are you ready?
Here's the recipe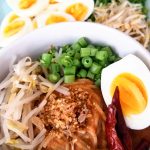 Print Recipe
Kha Nom Jeen Nam Ya (Thai Fish Curry Noodles)
Thai Fish Curry Noodles are a super yummy comfort recipe, that's not too hard to make.
Ingredients
4

cans

Maesri Nam Ya paste

1

lb

uncooked vermicelli

brown rice

2.5

cups

water

½

lb

green beans

chopped

1

bag

beansprout

8

eggs
Instructions
Follow the instruction on the vermicelli package and cook the noodles.

Chop the green beans then heat water in a large pot. Add beansprouts and green beans when the water is boiling. Cook them until they are a little soft or a little crunch (depends on how you like your vegetables) and set them on a plate.

Boil the eggs in boiling water for 9 minutes to get hard boil eggs.

Heat a medium pot in high heat, add Nam Ya paste and water into the pot. Mix them together, once the curry is boiling turn off the stove.

Lay the vermicelli noodles in a bowl and pour the curry sauce over the noodles, add green beans, beansprout, boiled eggs, in the same bowl. Put a little bit of fried garlic and dried Thai peppers for garnish and it's ready!
Nutrition
Calories:
143
kcal
|
Carbohydrates:
5
g
|
Protein:
12
g
|
Fat:
8
g
|
Saturated Fat:
3
g
|
Polyunsaturated Fat:
2
g
|
Monounsaturated Fat:
3
g
|
Trans Fat:
0.03
g
|
Cholesterol:
327
mg
|
Sodium:
136
mg
|
Potassium:
241
mg
|
Fiber:
2
g
|
Sugar:
2
g
|
Vitamin A:
866
IU
|
Vitamin C:
7
mg
|
Calcium:
75
mg
|
Iron:
2
mg
If you like this, you may like
Healthy Thai Green Curry Beef and Brown Rice Vermicelli Noodle Recipe,แกงเขียวหวานเนื้อวุ้นเส้น
Easy Khao Soi- Easier to Make and Still Amazing Rich Flavors