This post may contain affiliate links.
So This Red Curry and Basil Pan-Seared Trout recipe is another of my go to for entertaining. I am pretty sure it will make anyone who eats it pause a second to make sure they are not actually dead and in heaven. I can tell when I am really extra excited about a recipe when I am craving to write about it before the others in my cue of pending posts. This one definitely fits that. It's fast, it's the epitamy of the healthy feel without the feel of sacrifice to eat healthy. Fish dishes are the ones that get your social likes, they are just win-win when done well.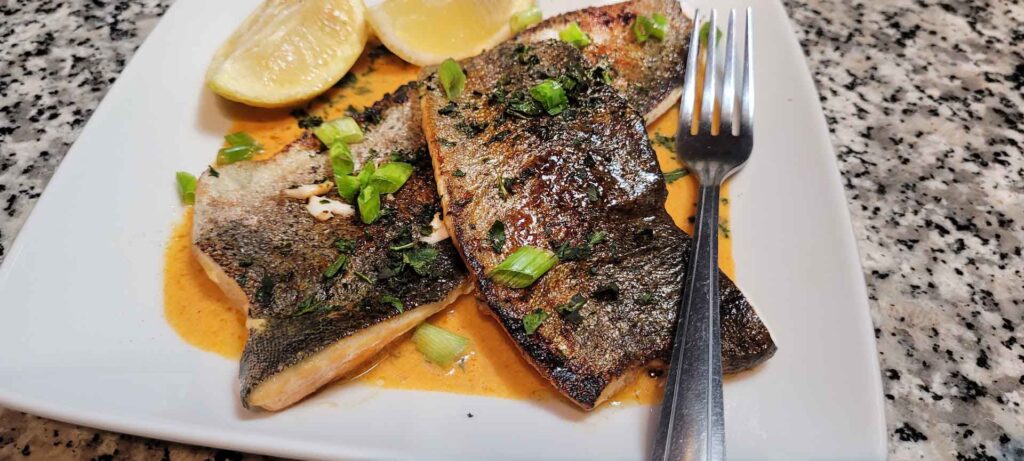 You can use any kind of trout
You can use whatever is a good deal at the time. This was rainbow trout I think, it was just labeled trout. As long as your pan is big enough, just adjust a little for quantity. There's an option in the printable recipe for 2x, 4x etc. Steelhead trout is way bigger so use your judgement.
Making the sauce
For the sauce, I just went with a very basic Thai red curry sauce. You can just follow the instructions on your typical red curry paste from the supermarket and leave out the vegetables and meat and leave it on low heat in the sauce pan. I used Mae Ploy just following the instructions enough just to make the sauce but you can use the same instructions with a healthier homemade curry paste if you want. Here is our recipe for that paste.
Modifications to make it healthier
You can just leave out the salt and seasoning if you like and the curry seasoning and natural flavors might be enough. You can also use a monounsaturated oil like one of the following recommended by Medlineplus.gov .
Canola oil
Olive oil
Safflower oil (high oleic)
Sunflower oil
Peanut oil and butter
Sesame oil
I used a butter alternative because my gut said butter and lime and fish = drooling. I just used I can't believe it's not butter which is based on healthier base ingredients. Canola oil or something. I'll let you dig deeper on that if you want in this article I found. I felt good enough with what I know about that brand and it was what was there.
Seasoning options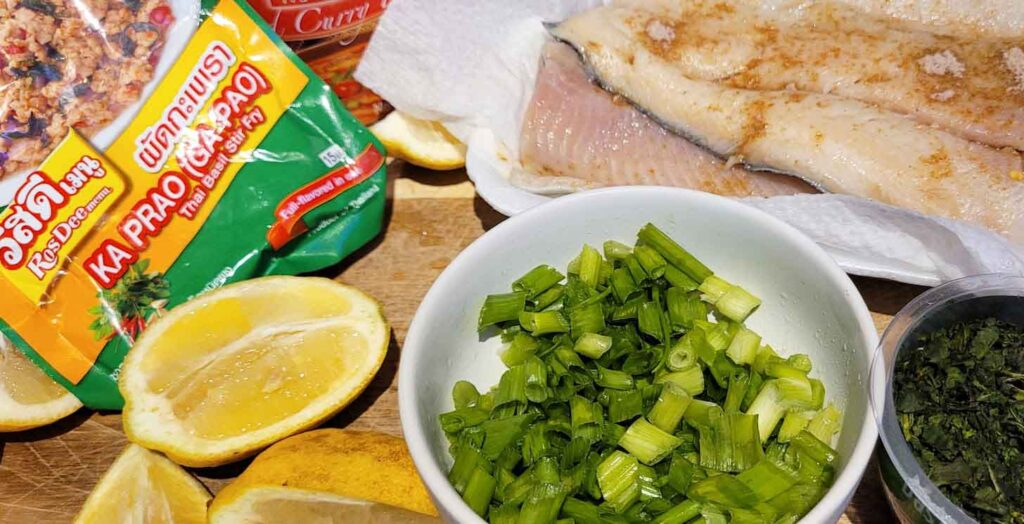 For the seasoning, I used something Mod, (my Thai wife) had, called Ka Prao, seasoning, by a company called Rosdee. You could also use just a bit of salt to a similar effect. For the Nutrition facts, I just used a bit of salt for simplicity's sake.
You should know your health risks from your yearly physical if you are doing it right. I know I have slightly elevated BP when I am caffeinated, therefore I go easy on the salt when I can. Then again, there's a fine line and I think I can tolerate a bit of salting.
Here's our recipe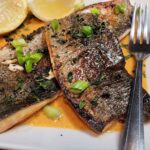 Print Recipe
Thai Red Curry and Basil Pan-Seared Trout
Thai Red Curry and Basil Pan-Seared Trout is a quick way to make an elegant dinner that just feels healthy.
Ingredients
For the Sauce
2

tablespoon

Red curry paste

you can actually use whatever curry paste you want.

1 ½

cup

Light coconut milk

½

cup

Water

1

teaspoon

Stevia

optional
For the Trout
1

lb.

Trout

fillets, about 4

2

tbsp.

Butter substitute

I can't believe it's not butter or a healthy oil
Seasoning
1

tsp.

Salt

and or pepper or basil seasoning

1

tbsp.

Basil

Crushed

1

tbsp.

Scallions

Or green onions, cut into slivers

2

lemons

Cut into wedges
Instructions
Make the Sauce
On medium-high to high heat, with a bit of oil, stir-fry the curry paste until fragrant, and then add in a cup of light coconut milk and mix well.

Add in the next half cup of light coconut milk and water and stevia and continue to mix well.

Turn to low heat and move on to the fish.
Cooking the trout
Place a skillet on medium-high to high heat and add the butter to melt or oil if you prefer, making sure to cover the skillet as much as possible.

Season the fish with salt or basil seasoning or both, and lemon juice on both sides and then add the fillets, skin side down to the skillet.

This is the important part to me, you will want to cook until the skin is a bit crispy and crunchy, adding a little lemon

Once the skin is a bit crispy and brown you can flip it over using tongs, being careful not to break it apart. You can cover the bottom of the skillet with more oil by moving it around or adding more as needed so it doesn't stick.
Plating
For the plating, you will want to add the sauce to your plate first, adding the crushed basil, scallions, or green onions, and more salt, pepper, and garnish with lemon wedges.
Notes
As always, your situation is fact dependant.  When in doubt, check it out with your doctor, dietician, or nutritionist.  We are none of the above, just a couple of people trying to make healthy Thai recipes as healthy as we can.  We would love to hear your ideas for improvement.  🙂 
Nutrition
Calories:
620
kcal
|
Carbohydrates:
17
g
|
Protein:
49
g
|
Fat:
38
g
|
Saturated Fat:
16
g
|
Polyunsaturated Fat:
7
g
|
Monounsaturated Fat:
14
g
|
Cholesterol:
132
mg
|
Sodium:
1344
mg
|
Potassium:
1016
mg
|
Fiber:
4
g
|
Sugar:
4
g
|
Vitamin A:
3508
IU
|
Vitamin C:
62
mg
|
Calcium:
172
mg
|
Iron:
5
mg