This post may contain affiliate links.
Central Thai Brown Rice Vermicelli with Lentil-Peanut Sauce (เส้นหมี่ข้าวกล้องน้ำพริก)
Central Thai Brown Rice Vermicelli with Lentil-Peanut Sauce is a recipe that was inspired by a family recipe we found in a cookbook.  I go through the pile of books, and what Google finds, in my free time looking for something that pops out and this did it this month.  Since it was my brain that got excited by this recipe, I was the lead chef and Mod was the Sous-Chef.  This is also a Central Thai recipe that Mod had never tried before.  We enjoyed this recipe as much for something to do together as for the intricate flavors and gorgeous presentation.
Central Thai Food Culture
Mod said cooking this dish reminds one of the recipes the servants make in Thai soap operas.  Back in the days, Bangkok and other provinces surrounding it were traditionally where the royalty and wealthy lived and had servants to cook them super elaborate recipes.   When you can stay home all day and just eat and cook you can afford to micro-manage all the tiny details in a recipe.  Thailand has always been a country of rich resources so I think this sets the tone for a perfect storm of relaxed focus on nuanced and beautiful harmonies of flavors.
Finding all The Ingredients
This is definitely a recipe that you will want to make as an experience like they have done in Central Thailand forever.  We spent an hour on the weekend just finding all the ingredients.  We could have done it faster once we realized that Kroger now carries pink lentils in the international section.  Lentils are super cheap too, you can also find the brown rice vermicelli at western-style supermarkets now more often. In some areas, you may have to go to an Indian market for the pink lentils, golden lentils, or whatever you find.  We went to the Indian market for the lentils and then saw them in Kroger the next day.  I used the ones that were split already, I figured it's more surface area for the hot surface to cook.  Here is the one we bought.  It's available on Amazon at this link.
The Asian Market Ingredients or Stuff You Might Want to Buy Online
For the Thai chili jam, you can make it, but holy cow this recipe is already elaborate enough.  If you want to make it, we owe shesimmers.com a little love for the inspiration for this recipe from her gorgeous book called Bangkok we used, so here is her recipe for Thai chili jam.  If you want to save a little time like we did because we are already at our limit, here is a link for the Pantai chili paste we used.   Use whatever chili paste you like, making your own is good if you really want to watch what goes in your body.
We loosely followed the recipe, Rice vermicelli with lentil-peanut sauce in her book with the typical substitutions we make, that we think are a little healthier.   If you go to the Asian market, you might want to also pick up tamarind paste, light coconut milk, Thai shrimp paste, Thai peppers and galangal.  This is assuming that you are also going to your typical supermarket, if you are in the western hemisphere, like us.  I know this is a whole adventure.  Hopefully, that covers most of them.  For this recipe, since it is so elaborate I will place links to all the ingredients I can find on amazon after the printable recipe to make it easier if you use amazon like I do sometimes.  I'd print this one and check off the ingredients as I went to be safe. Print Recipe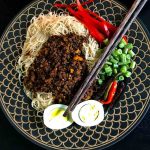 Print Recipe
Central Thai Brown Rice Vermicelli with Lentil-Peanut Sauce
This elaborate recipe is as intricate in it's flavors as it is in its preparation
Equipment
Sauce Pan

Wok

Skillet

Colander

Mortar and Pestle

Food Processor
Ingredients
20

Thai peppers

4

Shallots

6

Garlic Cloves

2 ½

cups

Water

½

cup

Lentils

Dry and Halved, if not red, whichever you have

½

cup

peanuts

Unsalted, Shelled

2

cups

light coconut milk

2

tablespoon

chili paste

Store bought Thai style Or homemade jam, see above narrative

5

tablespoon

tamarind paste

2

tablespoon

stevia

2

tablespoon

galanga

5

Thai peppers

Dried

1

teaspoon

shrimp paste

¼

cup

coconut oil

extra virgin

2

tablespoon

lime juice

4

rice vermicelli

Brown rice, 4 dried nests boiled and drained

10

boiled eggs

1

cup

red bell peppers

Sliced for presentation

1

cup

green beans

Fresh sliced for presentation
Instructions
Stir-fry the Thai peppers;

Using a handful of Thai peppers, maybe 10-20 to be safe as it's a topping, and 2 tablespoons of canola oil, stir-fry over medium heat until a little blackened and crisp.   Set the peppers on a plate  to be used as a topping.  They are yummy on their own, if you're like us, you'll eat them by themselves on other stuff if you make to many.

Prepare the shallots;

First, peel the shallots.  Next, divide the shallots in half and cut half into cubes and the other half into slivers and place in two separate areas.

Prepare the garlic cloves;

Again, peel the garlic and divide them in half.  Leave half of the garlic in whole and thinly slice the other 3 and then set them aside with the shallots.

Prepare the lentils;

Get your strainer ready for the lentils if you have one.  Place a cup of water in saucepan or a pot.  In the mean-time, toast the dry lentils in a skillet or wok for 10 minutes over medium heat, stir regularly until a little brown.   I think at this step we went a bit on the dark side, which is why our sauce isn't as pink as it would have been.  Once they start to look and smell a little nutty and smokey, place them in the boiling water and start a timer for 5 minutes.

Prepare the peanuts;

Add the peanuts to the same pan and toast about 10 minutes until dark around the edges.  Chop the toasted peanuts into tiny little pieces.  Place them on a plate.

Adding in the shrimp;

Measure out 8 ounces of shrimp with tail off and peeled.  Turn the heat to high and boil and then turn down to medium and cook for 10 minutes.   Add the shrimp and cook until no longer translucent.  Place everything in a food processor or bowl with an immersion blender as we used.   Blend the shrimp and lentils into a paste and then place back into the sauce pan.

Combine what you've prepared so far;

Pour the lite coconut milk into the saucepan where the lentils and shrimp were and pour the lentils and shrimp mixture back in as well.  Also, add in the chili paste or jam, chopped peanuts, tamarind, and stevia if you use it and set aside.

Prepare the other spices;

Place the cubed shallots, whole garlic cloves, and galangal into the pan in which you toasted the lentils and toast on medium for 5 minutes, stirring as not to burn them.  Combine in a mortar or chopper with half the fried peppers and shrimp paste and pound into a paste and set aside.

Prepare the noodles;

You can prepare the noodles at any time but now would be good as you are nearing the end.  I just boiled them in a separate pot until soft and placed in the strainer to drain in the sink. Make roughly one large family sized bowl of noodles if your noodles come a different way. Enough for 4 people.

Prepare the remaining sliced shallots and garlic;

Using the same pan, place the coconut oil on the pan and heat over medium heat to melt the oil.  Add the sliced shallots and garlic over and stir-fry until golden and crisp.  Remove the shallots and garlic and place on a plate, leaving the coconut oil in the pan.

Prepare the chili paste;

Turn the heat up to medium-high and add in the chili paste, stir-frying a couple minutes until it thickens up and is fragrant.  Remove the pan from the heat.

Finishing out the sauce;

Turn the burner under the saucepan with the lentil-peanut mixture to medium-high, adding in another cup and a half water and bring to a boil.  Stir in the chili paste and coconut oil.  Add in the lime juice, orange juice and orange zest.  Taste and add in salt if you like or additional seasonings.

This is a good recipe to set up family style, as my wife puts it.  You can place the various vegetables you choose, noodles, some boiled eggs and condiments out on the table and people can arrange as they like.  This is especially helpful in more Western cultures where some of the ingredients may be overwhelmingly alien.   Everyone can ease into it at their own pace so to speak.  🙂 Each person can pour the amount of sauce they like over the amount of noodles they like. I personally like it all mixed together in a bowl with chopsticks.
Notes
Nutrition calculations are an estimate.  Some of the values were not exact in the computer api so nutrition for regular rice vermicelli was use used rather than brown rice vermicelli.  Also, there will be variations and irregularities in any product between samples due to good the good old fashioned law of entropy in of the universe.  ;p
Nutrition
Calories:
704
kcal
|
Carbohydrates:
50
g
|
Protein:
31
g
|
Fat:
43
g
|
Saturated Fat:
24
g
|
Cholesterol:
481
mg
|
Sodium:
313
mg
|
Potassium:
980
mg
|
Fiber:
13
g
|
Sugar:
20
g
|
Vitamin A:
2243
IU
|
Vitamin C:
105
mg
|
Calcium:
153
mg
|
Iron:
6
mg
Here is how I liked my plate served.  I used ample sauce, more than in the above photo and mixed it all together.
Here is a list of the harder to find ingredients with links to make it easier on you if you want to buy on amazon.  I am not an affiliate with them currently, this is just for you.
Links to ingredients may change depending on vendor availability.  Please let me know in the comments section if any of these links break.
If you love Whole Grain Vermicelli; You might want to try one of these recipes
Stir-fried Chicken, Mushrooms and Whole-Grain Brown Rice Vermicelli
Thanks for reading our blog!  If you have special dietary concerns, please consult with an appropriate doctor or dietitians.  Here at healthythairecipes.com we are not dietitians or doctors or nutritionists.  We are just people trying to live healthier and rehab the recipes the best we can.  If you have ideas, concerns or suggestions we would love to hear them in the comments section.  Please share this on social media if you love it.