This post may contain affiliate links.
You can make this 5 Ingredient Garlic Chili Round Steak with minimal ingredients and very inexpensively. It looks like you are going fancy when, in reality, I spent $2.50 on the meat, on sale. I also made it simpler by using premade garlic chili sauce.
About Round Steak
Generally, you can get a leaner cut of meat for a good price with a round steak. We have done a couple of posts using round steak, usually round eye. You can be pretty sure that round eye is a leaner cut of meat. With any of these cuts you will want to trim off any fat if you can. Here's the definition, differentiating the types from the Wikipedia page.
A round steak is a beef steak from the "round", the rear leg of the cow. The round is divided into cuts including the eye (of) round, bottom round, and top round, with or without the "round" bone (femur), and may include the knuckle (sirloin tip), depending on how the round is separated from the loin. This is a lean cut and it is moderately tough.
Marinating the Meat
You can do this recipe as simple as using 2 ingredients if you want to just marinate and cook. I marinated the steaks in ½ cup of garlic chili sauce for like 30 minutes, in a ziplock type bag or bowl, and in a fridge if possible. You could add a little oil into the mix to help with taste and to prevent drying out.
Reusing the marinade as a sauce?
I don't recommend this according to this article. You would have to boil it and I don't think it's really worth it unless you are a ninja with your budgeting and reuse everything. I was just curious and I tried it and it was too difficult not to burn it, but it was an interesting experiment and as long as you bring it to a boil it's likely pretty safe. It's just too much trouble and almost impossible in my opinion. Garlic chili sauce is cheap enough you can just add some to your onions from the jar and save yourself the trouble.
Optional Caramelized Onion Topping
You can just cook the marinated meat in 5 minutes if you are going for speed, cost, and ease. Just throw it on the grill or skillet at that point if you want simple. If you want a more difficult but beautiful presentation with more flavor, try this in a saucepan, skillet or wok. The topping idea was inspired by this recipe from another blog, check it out and send them some love.
1 large onion chopped
1-2 tablespoons garlic chili sauce
3 tablespoons natural peanut butter
2 tablespoons low sodium soy sauce or liquid aminos
You will want to be careful and cook this fast, don't walk away. I charred mine a little on my first attempt, you can avoid this by starting on medium and paying close attention. Add the ingredients other than onions and mix until well mixed and then add the onions and caramelize while hot.
Platting
We platted our steak over basmati rice, which has a low glycemic index, and served with sliced, and skinned cucumbers topped with salt and ground Thai pepper.
My Recipe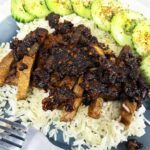 Print Recipe
Easy Garlic Chili Round Steak (เนื้อย่างหมักซอสพริกกระเทียม)
This simple and easy garlic chili round steak recipe is one you can adapt to be super simple or add a little more panache. Either way, you and your guests will be salivating when you serve it up and your budget will be happy too.
Equipment
Wok, Skillet or sauce pan
Ingredients
2

pounds

round steak

fat trimmed

½

cup

garlic chili sauce

to marinate
Sauce
1

white onion

chopped

2

tbsp.

garlic chili sauce

3

tbsp.

peanut butter

natural

2

tbsp.

low sodium soy sauce
Instructions
Trim the fat off the meat and marinate in the garlic chili sauce in either a bag or bowl for 10 minutes to a day.
The Sauce
In a skillet, wok or saucepan with a bit of oil, and on medium-high heat, add all the sauce ingredients other than the onions and mix. After mixed through add the onions and carmalize until translucent. Remove from heat to be used as topping.
The Steak
On a grill or skillet cook evenly on both sides with a bit of oil for approximately 4-5 minutes ea. side to your desired level, rare, medium-rare, or well done.
Platting
Slice and plate over rice with the optional caramelized onions if you went in for that.
Notes
We are not registered dieticians, nutritionists, or doctors.  Nutrition facts are calculated by a computer.  Your situation is fact dependant, if you have any special health concerns please refer to an appropriate professional.  
Nutrition
Calories:
881
kcal
|
Carbohydrates:
28
g
|
Protein:
110
g
|
Fat:
33
g
|
Saturated Fat:
10
g
|
Cholesterol:
286
mg
|
Sodium:
4487
mg
|
Potassium:
1847
mg
|
Fiber:
5
g
|
Sugar:
17
g
|
Vitamin C:
4
mg
|
Calcium:
113
mg
|
Iron:
10
mg
Please share our content so we can keep posting healthier ideas.
If you like this steak recipe, you might like one of these!