This post may contain affiliate links.
My Thai mother-in-law has so many great comfort food recipes my wife and sister-in-law grew up with, this is one of her favorites. It's one that my sister-in-law really loves and that she shared with me from Thailand.
You can adapt it as you like but it gives you an excellent simple, hot soup recipe for anytime you want comforting potatoes and chicken in a soup with Thai flavors. I have the original and a variation using chicken sausage here.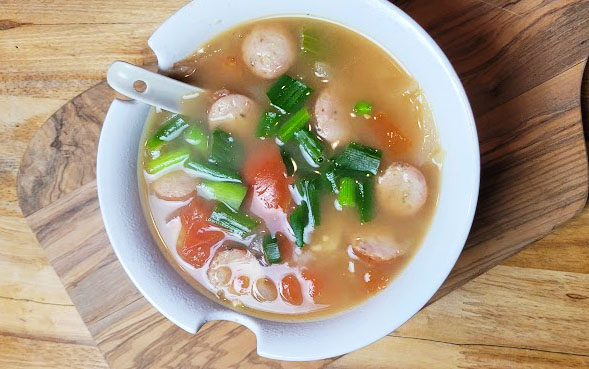 Background content: This is one of those recipes moms tend to make that make you feel good. She gave me her original recipe and I adapted it for one that my wife likes more, with more seasoning. It's great for cold days, or just anytime you want something simple that will last a few days.
Jump to:
Ingredients
1. Chicken breast 2 pieces 2. Broth 1000 ml. 3. Potatoes, peeled and cut 4. Tomatoes 2 large 5. Onions, peeled and cut 2 heads 6. Celery halves, chopped 1 cup 7. Seasoning sauce 2 tablespoon soy sauce 1 teaspoon salt 1 teaspoon ground pepper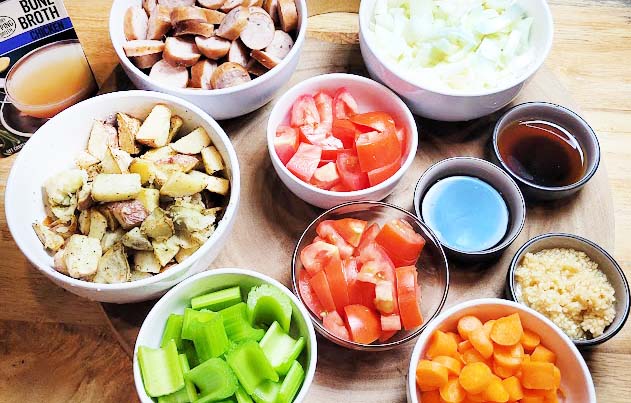 See the recipe card for exact quantities.
Instructions
1. Put the broth in a pot and bring it to a boil. 2. Add potatoes and carrots 3. Add garlic and onions 4. Add chicken breast (wait for the soup to boil) 5. Season with salt, soy sauce, and pepper (set for 6 minutes) 6. Add tomatoes, wait 1 minute, and turn off the heat 7. Add celery, ready to serve.
Hint: This recipe is one that my wife doesn't love but her sister likes. I added minced garlic, used chicken sausage, instead of chicken breast, and air-fried the potatoes before adding them to give them more texture and flavor and she liked it better. You know your people, use what you know, and adapt.
Substitutions
If you are on a specific diet here are some ideas to stay within your parameters.
Low Carb - instead of potatoes use, one of the following vegetables; Cauliflower (2 g carbs/23 calories per 100 g), Daikon (2 g carbs/18 calories per 100 g), Kohlrabi (2 g carbs/27 calories per 100 g), Rutabaga (5 g carbs/35 calories per 100 g), Turnips (4 g carbs/28 calories per 100 g), Zucchini (2 g carbs/20 calories per 100 g) or low-carb pasta for a lower-carb version. (Source: LowCarbGrocery.com)
Broth - use water or homemade broth instead of pre-packaged broth to decrease sodium content.
Vegetarian - You can use veggie sausage instead of chicken sausage.
Use your imagination and by all means, let us know in the comments what you change.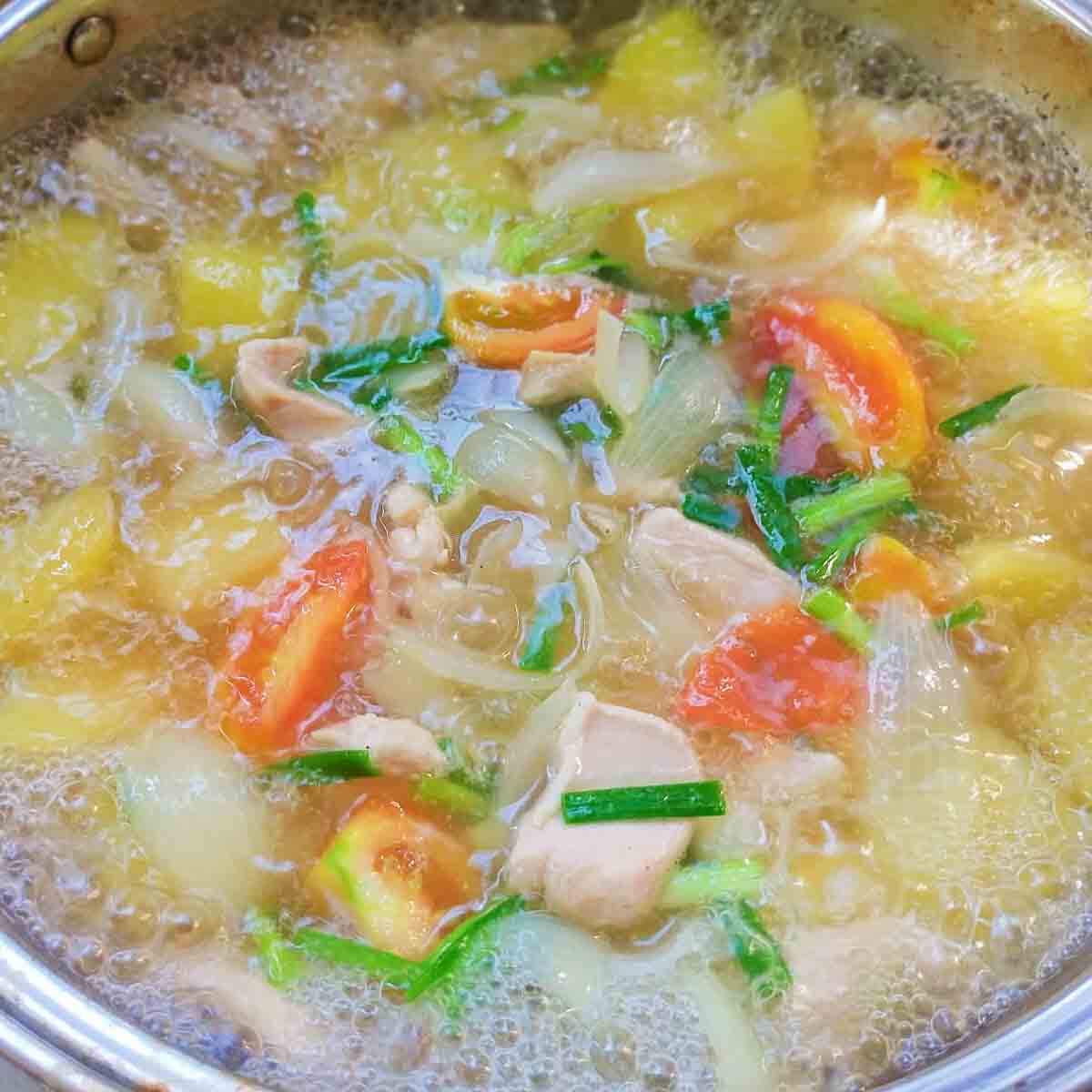 Variations
This recipe is not spicy but you can easily make it spicy if that's your thing, you can also add more textures and flavors, here are some ideas.
Spicy - add chili pepper flakes while cooking to imbue heat into the dish.
Deluxe - add crispy onions or fried scallions
Kid-friendly - add crushed potato chips (ketchup chips!)
See this spicy version of this recipe on my website! (placeholder for in-content link)
Equipment
I used an instant pot to make this with the sautee setting and it's basically the same as using a large pot on a stove. Use what you have, you could cook this in any kind of pot as long as it has room.
Storage
These ingredients do stand up well to freezing for X several months. They may get mushy with storage. You can leave them in the fridge for a few days and the ingredients will actually soak up more of the flavors.
Top tip
Don't overcook the potatoes! Also, don't add too much salt and spices, you can always add more later.
FAQ
Q: Can you make potato soup with the skin on the potatoes? A: Absolutely, just consider the tastes of who you are making it for. The skins add color, texture, and nutrition.
Q: Can you make this Potatoe Soup Vegan? A: You will just want to leave out the chicken and watch the ingredients in the sauces you use.
Q: What kind of Potatoes are best in Potato soup? A: I used new potatoes and russet potatoes. You can use whatever your favorite is. Sweet potatoes would be a bit sweet but maybe that's what you want. They also have a lower glycemic index so it would be a bit better for diabetics.
Q: Is Chicken potato soup good for weight loss? A: Research has shown that people who eat soup in general, eat fewer calories, so if you are trying to decrease your caloric consumption it's a good strategy to increase soup as a choice in your diet. This one has so many colorful, whole-food ingredients it's a great, balanced choice for that strategy.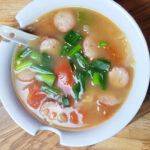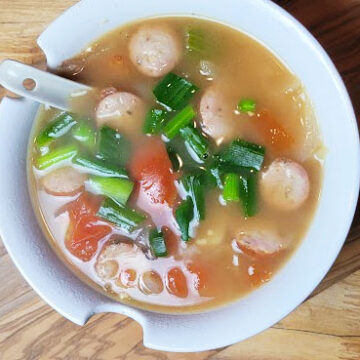 Print Recipe
THAI MOM'S EASY BOILED POTATO SOUP WITH CHICKEN BREAST RECIPE
MY THAI MOM'S EASY BOILED POTATO SOUP WITH CHICKEN BREAST RECIPE IS BOMB!
Equipment
1 Pot

Instant Pot or Crock Pot
Ingredients
1

Pound

Chicken Breast

Chicken sausage or veggie sausage will work

1

Cup

Onions

Skinned and sliced

1000

Ml

Low Sodium Broth

Bone, chicken, vegetable broth or water are fine, just watch your sodium intake.

1

Cup

Potatoes

Sliced, She makes it with the skin off but you can leave it on and have more nutrients.

1

Cup

Tomatoes

Sliced into wedges or smaller

½

Cup

Celery

Cut into half inch pieces

½

Cup

Carrots

Cut into bite sized pieces

2

tablespoon

Golden Mountain Seasoning Sauce

Cut that in half for less calories and sodium

2

tablespoon

Low Sodium Soy Sauce

Not to be mistaken for thin soy sauce

2

tablespoon

Garlic

Minced or chopped for extra flavor
Instructions
Put the broth in a pot and bring to a boil

Add chicken breast (wait for the soup to boil)

Season with salt, soy sauce, and pepper (set for 6 minutes)

Add tomatoes, wait 1 minute, and turn off the heat

7. Add celery, ready to serve
Notes
As always, if you have specific dietary concerns when in doubt, check it out with your doctor.  When it comes to the freshness of ingredients when in doubt, throw it out.  
Nutrition
Calories:
187
kcal
|
Carbohydrates:
9
g
|
Protein:
30
g
|
Fat:
3
g
|
Saturated Fat:
1
g
|
Polyunsaturated Fat:
1
g
|
Monounsaturated Fat:
1
g
|
Trans Fat:
0.01
g
|
Cholesterol:
73
mg
|
Sodium:
910
mg
|
Potassium:
1202
mg
|
Fiber:
2
g
|
Sugar:
4
g
|
Vitamin A:
3075
IU
|
Vitamin C:
12
mg
|
Calcium:
39
mg
|
Iron:
1
mg
Food safety
We sometimes take for granted that we have years (or decades) of cooking experience, review the following safety guidelines and remember to put safety first so you don't wonder why you got diarrhea later.
Cook to a minimum temperature of 165 °F (74 °C)
Do not use the same utensils on cooked food, that previously touched raw meat
Wash hands after touching raw meat
Don't leave food sitting out at room temperature for extended periods
Never leave cooking food unattended
Use oils with high smoking point to avoid harmful compounds
Always have good ventilation when using a gas stove
See more guidelines at USDA.gov.
If you love soups, check out some of these other soup recipes.