This post may contain affiliate links.
Thai Cashew Nut Green Curry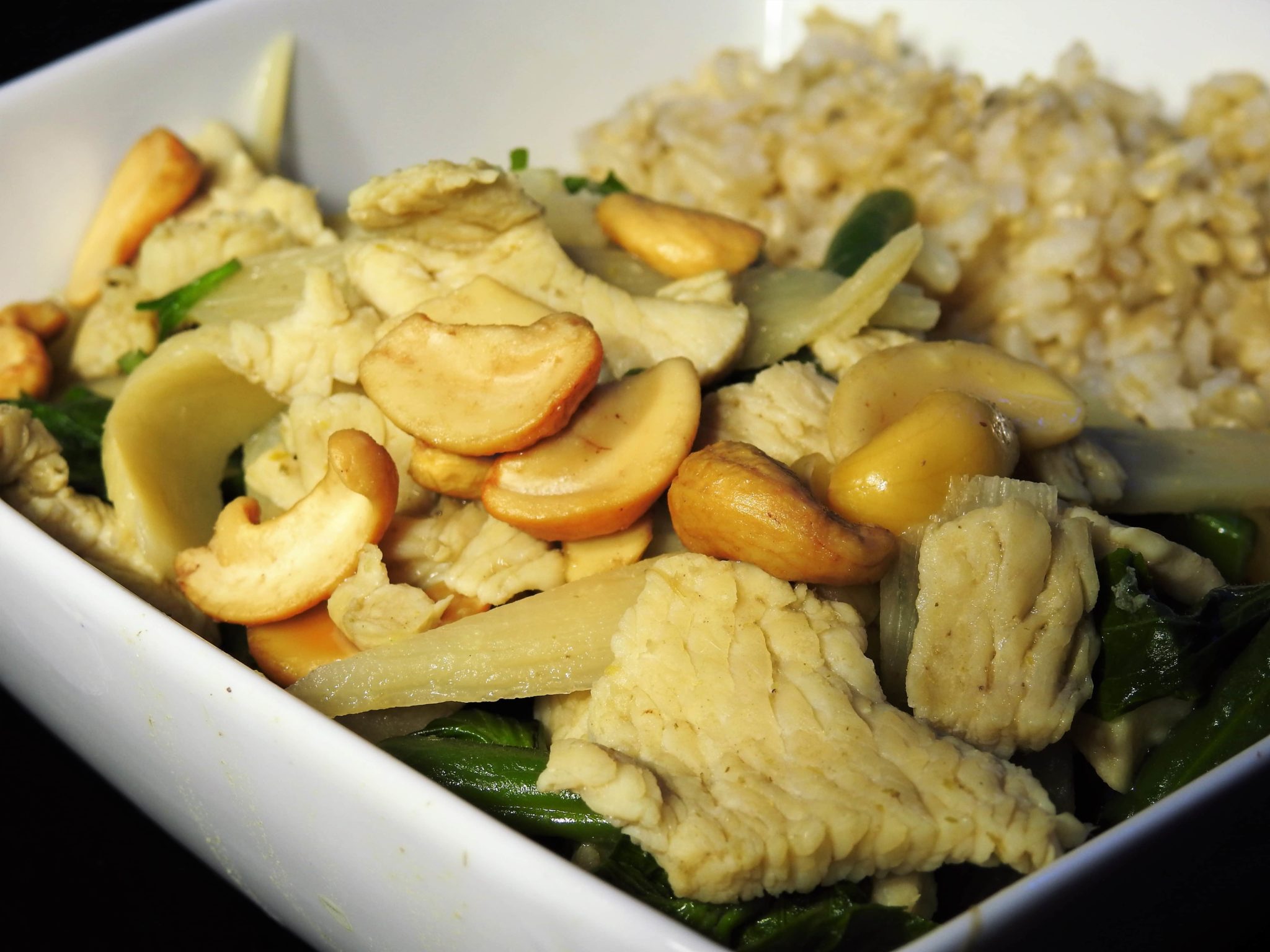 Hurrah!! It's time for green curry again. Yes, I never get bored when it comes to green curry. It's all time my favorite curry that I can pair it with rice or noodle. If there's any challenging eating game like drinking curry soup, I'd prefer the green curry soup! (I'm literary watching the Challenge season 29 when the competitors have to drink the spicy curry soup.)
We are currently in Houston, TX, and we are so excited to have a friend from New Mexico comes to visit us. We're planning to cook Thai food for him for the first night that he lands, but we have to be careful and pay attention to the food because he has something like celiac disease. So basically, he is on gluten free diet. He can't have any wheat or soy. Curry is the best choice so far, and of course, I decide to go with my favorite green curry. Thai curry is so far very safe for people who have celiac disease. It doesn't contain any wheat and soy.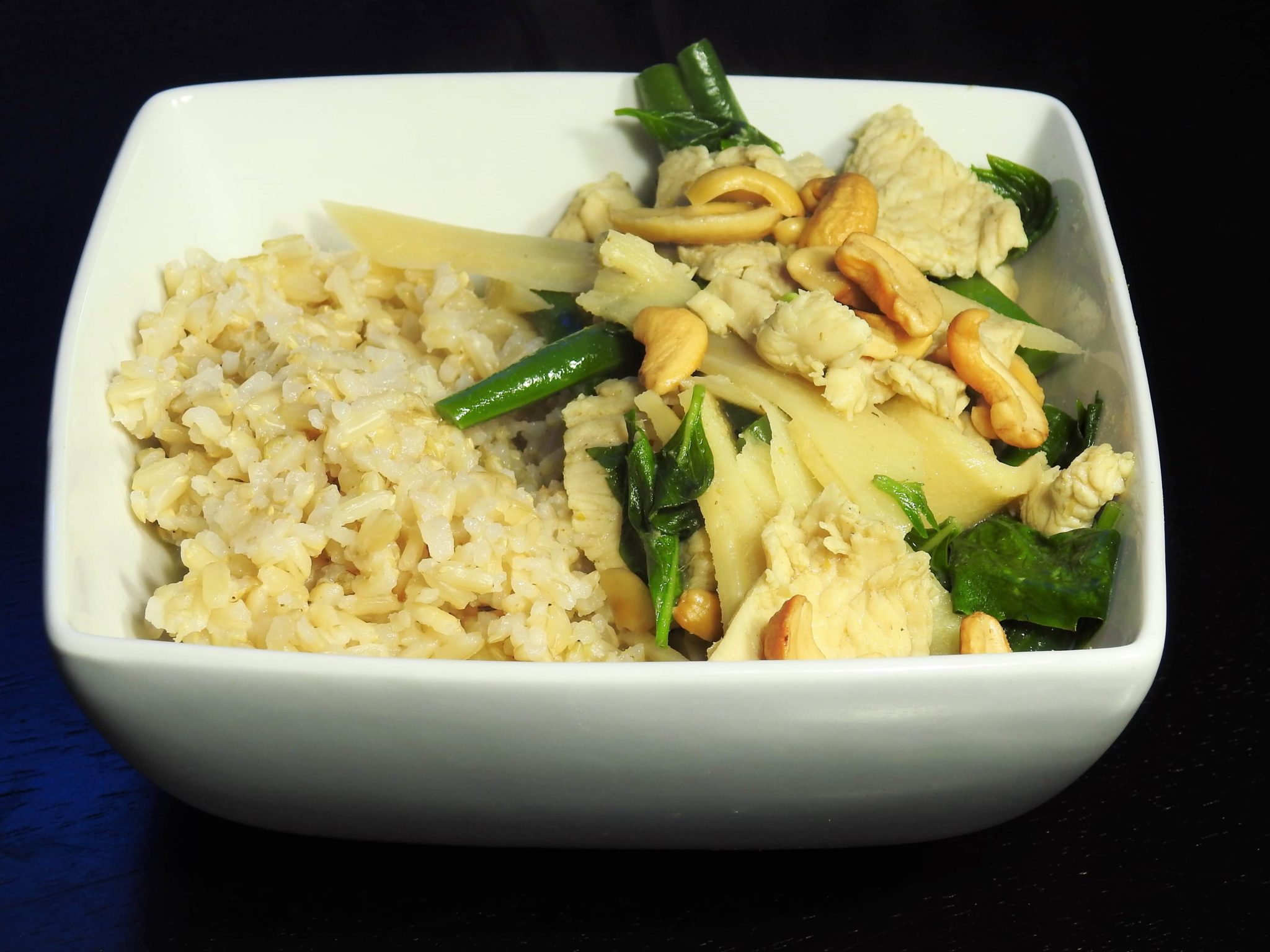 Mod's Green Curry
I've done so many green curry recipes, and I don't think there's anything wrong with going back to cook something delicious again and again. I know that our friend likes bamboo shoot in the curry. Perfect, I love bamboo shoot in my curry, too. I want this green curry recipe to be unique though. I'm using my cooking skill to choose what else I should put in the green curry to make it delicious and more satisfying.
One thing for the green curry recipe that you can't miss is the basil leaves. It makes the curry smell so delectable and kills the fishy smell from the curry paste and the fish sauce at the same time. Next, I picked green beans and lastly cashew nuts. Why? From my experience, the green bean has a neutral taste, and it has a great texture even though you like it crunchy or soft. I have the idea to put cashew nuts in the green curry from masaman curry. The masaman is a nutty curry; its curry paste has peanuts as one of the ingredients. Therefore, I think this could be something new and good like adding some nuts in the green curry.
This is one of my original recipes. I don't know if it's ever been done before. Please let me know how you experience this unique combination in the comments below. Our friend from New Mexico loved it, or at least said he did by the way. 🙂
Thai Cashew Nut Green Curry
Author:
Prep time:
Cook time:
Total time:
Ingredients
fish1 lb. sliced chicken breast
1 can (big) bamboo shoot slice
0.5 lb. green beans
2 oz. basil leaves
½ cup roasted cashew nut
1 can of lite coconut milk
1 cup of water
2 tbsp. green curry paste
2 tbsp. olive oil
½ tbsp. fish sauce
½ teaspoon Stevia
Instructions
Heat olive oil in a pot and add green curry paste.
Stir-fry the paste and when you see the paste color changes to golden brown, add sliced chicken. Stir the chicken with the green curry paste for a couple minutes then add a cup of coconut milk.
Bring the curry to boil then add green beans and bamboo shoot with one cup of water and 1 cup of coconut milk.
Continue cooking the curry, and add the rest of coconut milk, fish sauce, and stevia.
Keep boiling the curry until the bamboo shoot and green beans are cooked.
lastly, don't forget to throw in some basil leaves into the pot and turn off the stove.
If you like this recipe, you may like the ones below.
Thai Jungle Curry, Kaeng Pa, Made With Healthier Ingredients
Thai Jungle Curry, Kaeng Pa, Made With Healthier Ingredients