This post may contain affiliate links.
Quick and Dirty Thai Style Mango Fried Rice
This quick and dirty mango fried rice recipe is one that you can make quickly and easily.   Thai's tend to use whatever they have on hand and that is why we made this last night.  Rice is obviously a staple of the Thai diet and you can buy a huge bag of brown, long grain or wild rice that will last months.  Stir-frying is one of the dietitian recommended choices for Thai food, so you can feel pretty good about it too.
Making it in Thai style
There are a couple of things that are typical with Thai fried rice.  Usually, you will add some fish sauce.  There are also, of course, Thai peppers, but again, they use what they have so we had jalapenos on hand so we went with that.  Thai food often involves fruit and seafood but there are also vegetarians so you can use tofu for your protein if you prefer.  You would also typically find eggs, or egg whites in our case.  For vegetables, whatever you have.  We had carrots and some lettuce on hand so we went with that.
Choosing the Rice
If you are working out hard and need fast energy, go the traditional Thai style and use jasmine or white rice.  The title of our blog is, Healthy Thai Recipes, so we tend to go for whole grain and long grain rice.  If you can find whole-grain jasmine, that is my favorite.  It smells wonderful and fills the whole house like an incense.   Mod precooks rice in our instant pot, she used to do it in a rice cooker, but you can, of course, use a regular pot.  We usually have some pre-cooked rice on hand in the fridge or as ready to eat microwavable pouches like Uncle Ben's.  I used Uncle Ben's Brown and Wild for this recipe and it works great.  We have a dedicated page for choosing the best rice that I will continue to update as I learn more.
I got the idea for this recipe after going to a food truck called Dee Dee Northern Thai Food in Austin on our climbing trip yesterday.  They sell out all the time and it's a really beautiful use of Northern Thai style recipes the way they sell it street food style.  There was an inspiring video about their success that fueled my feeling that this blog is a good idea months ago so it was really just lucky. Mod is also Northern Thai and we are also a mixed-race, white and Thai couple.
They had Northern Thai Style Mango Rice and they were sold out.  Sounds good to me, why haven't we done this yet, right?  As always, we are picky with what we eat as most people don't do as well as we do at making healthy choices so we came up with a healthier version.  Here is my recipe, loosely adapted from this NY Times Thai Combination Fried Rice Recipe.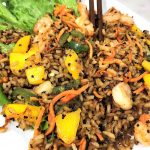 Print Recipe
Quick and Dirty Thai Style Mango Fried Rice
Quick and Dirty Thai Style Mango Fried Rice is an easy way to do healthy carbs with all your veggies and protein mixed in.
Ingredients
4

tablespoon

Canola oil

Or olive oil if you prefer

1

cup

Carrots

Shredded, or other vegetable

6

Egg whites

Optional

5

cups

Brown rice

or other long grain rice

2

tablespoon

Fish sauce

low sodium if possible

1

Mango

chopped into cubes

4

tablespoon

Thai peppers

Or comparable peppers chopped

½

cup

Scallions

Chopped

2

cups

Shrimp

Or your preferred protein
Garnish
½

cup

Lettuce

Large leaves as in the photo (optional*)

2

Limes

Cut into wedges (optional*)

Low sodium soy sauce

Or liquid aminos (optional*)

1

cup

cucumbers

Sliced (optional*)

Homemade Thai Chili Paste

Sriracha
Instructions
Heat a wok or skillet on medium high until hot.

Add the oil and coat the wok with the oil.

Add the the carrots and shrimp or protein of choice and brown.

Add the egg whites and stir fry, mixing in and cooking until opaque.

Add in the rice and cook, pressing it into the hot surface of the wok to cook thoroughly, about two minutes.

Mix in the fish sauce, scallions and cubed mango for another 30 seconds to a minute.

Serve garnished as desired an with seasoning sauces on the side 🙂
Notes
As always, nutrition is one of the most manipulated and bastardized sciences in existence for people out to make a quick buck. 
Our mission at healthythairecipes.com was born from my trying to rehab my wife's native Thai recipes to be as healthy as possible for both of us.  We like the whole foods, avoid processed ingredients approach.  What is healthy for us may not be healthy for you though as your situation is fact dependent.  I like to say, when in doubt, check it out with a doctor or dietitian, if you have concerns.  When it comes to food safety, When in doubt, throw it out, if you think an ingredient is questionable.  
Let us know how we can make our healthy Thai recipes healthier in the comments section below. Nutrition calculations are an estimate.
Nutrition
Calories:
4318
kcal
|
Carbohydrates:
797
g
|
Protein:
100
g
|
Fat:
84
g
|
Saturated Fat:
10
g
|
Sodium:
3275
mg
|
Potassium:
4408
mg
|
Fiber:
46
g
|
Sugar:
46
g
|
Vitamin A:
25162
IU
|
Vitamin C:
280
mg
|
Calcium:
516
mg
|
Iron:
21
mg
If you love fried rice, you might want to try one of these too.
Instant Pot Thai Whole Grain Coconut, Lemongrass and Lime Rice