This post may contain affiliate links.
Kabocha squash is one of my favorite new discoveries in the past couple of years, and I came up with a way to add my dad's homegrown pecans and I made Pecan Crusted Kabocha. You can find kabocha squash at Asian markets, worldwide. You can eat it by itself, just baked, and it's flavorful and sweet, and adding to it is just icing on the cake. The skin itself is even edible and soft when cooked. It also keeps for months as a fall decoration. We had them on our front porch for fall decor.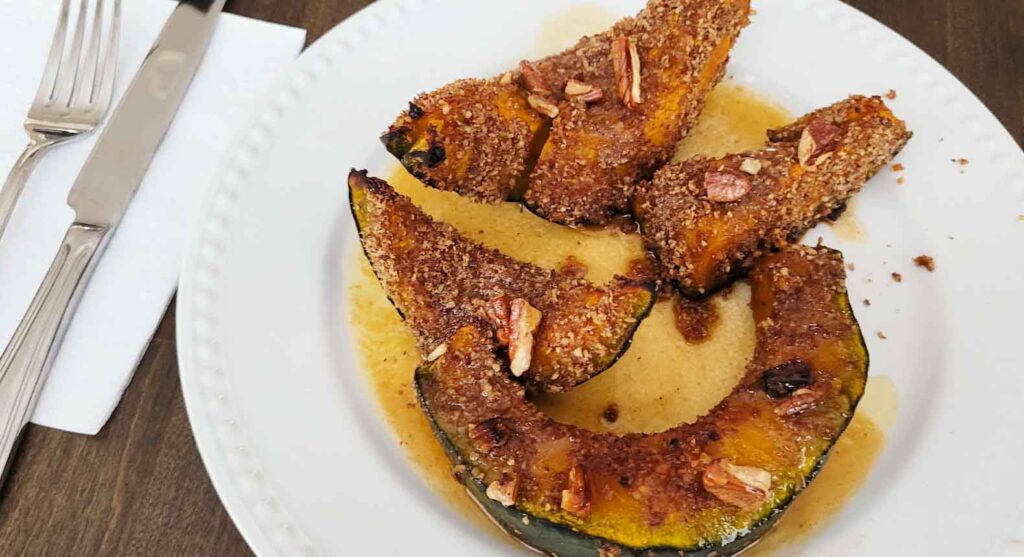 Jump to Recipe
Brown Sugar and Soy Carmalization
As I mentioned before. Kabocha is naturally sweet. It used to make tea by the Hmong, due to its sweet flavor. For our recipe, we took our inspiration from our friend, Pailin, from Hot Thai Kitchen, and this, soy caramel kabocha recipe of hers. We changed a few things, we used lower-sodium soy sauce and lite brown sugar. You can find them at most markets now. The squash has a lot of sugars on its own.
Pecan Crust
The crushed pecan powder is harder to find. You can easily make it through, by pounding pecans. My parents had some made already, it's basically, just ground pecans. You just want to refrigerate any extra you make because the oils go rancid. You will also want some regular pecan pieces to hold back as garnish.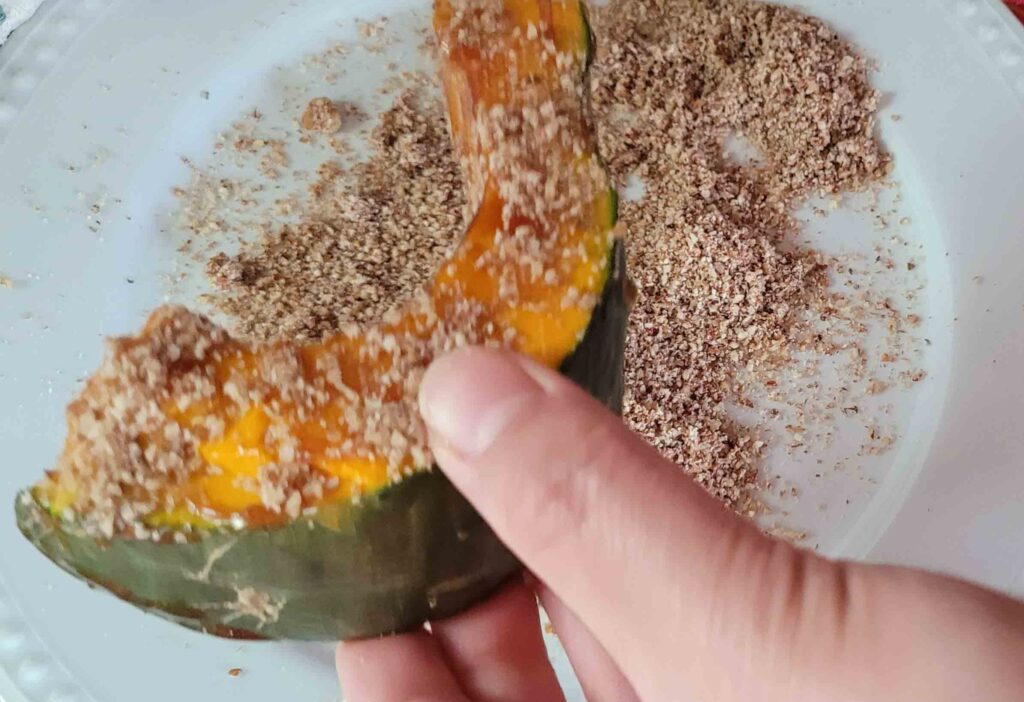 Making the basting sauce
We used a sesame oil, pecan power, light brown sugar, light soy sauce, coriander seeds and garlic for the sauce.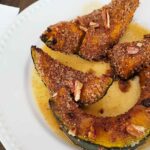 Print Recipe
Pecan Crusted Roasted Kabocha
Our pecan crusted, roated kabocha recipe is a recipe for a sweet,
Ingredients
1

Kabocha

1-2 Depending on the size of the squash, I used one large one small for this.

2

tablespoon

Sesame oil

Or some other healthy oil, sesame just adds to the nutty flavor.
Glaze
3

tablespoon

Light brown sugar

2

tablespoon

Light soy sauce

Or fish sauce, or one of both.

5

tablespoon

Garlic

Minced

1

tablespoon

Coriander

1

tablespoon

Garlic powder
Toping
1

cup

Pecans

Ground and in pieces

1

teaspoon

Salt

to taste

1

tablespoon

Pepper

to taste
Instructions
Cut the kabocha into wedges and remove the seeds.

Prepare a cookie sheet with foil

In a saucepan or skillet heat the sesame, or other healthy oil on medium-high.

Saute the garlic and add in the soy sauce, brown sugar, coriander, and mix into a glaze.

Turn down the burner to low heat.

Brush the glaze on the squash pieces.

Cover the pieces with the pecan crust pieces

Drizzle with more oil, pecan oil, sesame oil, whatever you prefer.

Roast for 25-30 minutes, testing with a fork that it is soft through and has a golden color.

Serve with added pecan pieces for garnish.
Notes
As always, we are not doctors or dieticians.  If you have dietary concerns my motto is,  when in doubt, check it out with an appropriate professional. 
Nutrition
Calories:
374
kcal
|
Carbohydrates:
38
g
|
Protein:
6
g
|
Fat:
25
g
|
Saturated Fat:
3
g
|
Polyunsaturated Fat:
8
g
|
Monounsaturated Fat:
13
g
|
Sodium:
1099
mg
|
Potassium:
1005
mg
|
Fiber:
7
g
|
Sugar:
15
g
|
Vitamin A:
3105
IU
|
Vitamin C:
31
mg
|
Calcium:
116
mg
|
Iron:
3
mg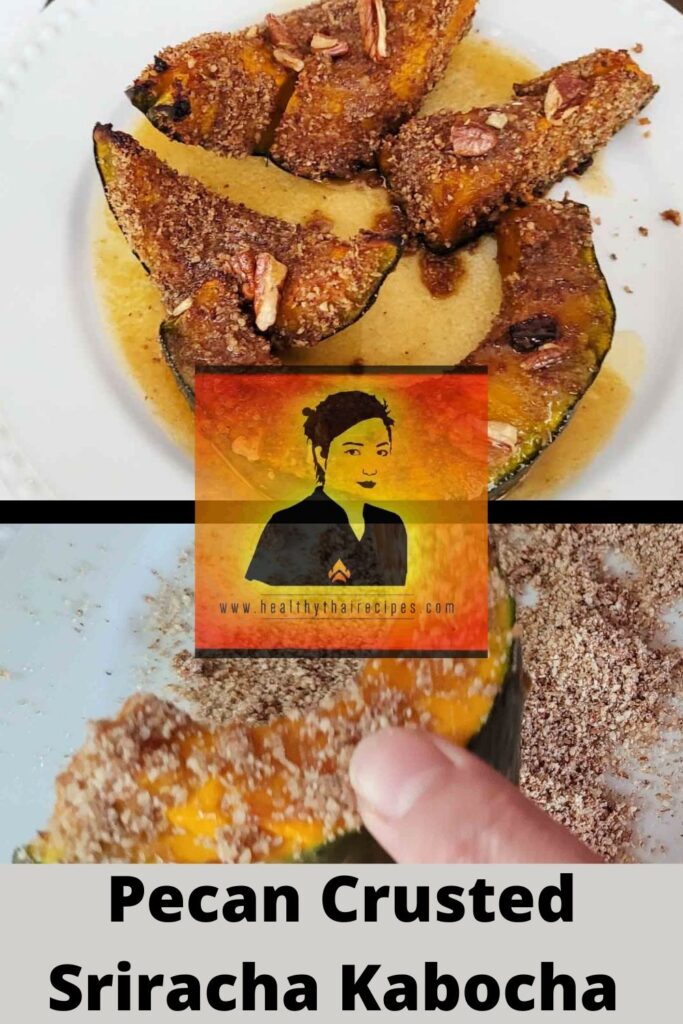 If you love squash, check out one of these, recipes, please. 🙂