This post may contain affiliate links.
Khao Soi Gai (ข้าวซอยไก่)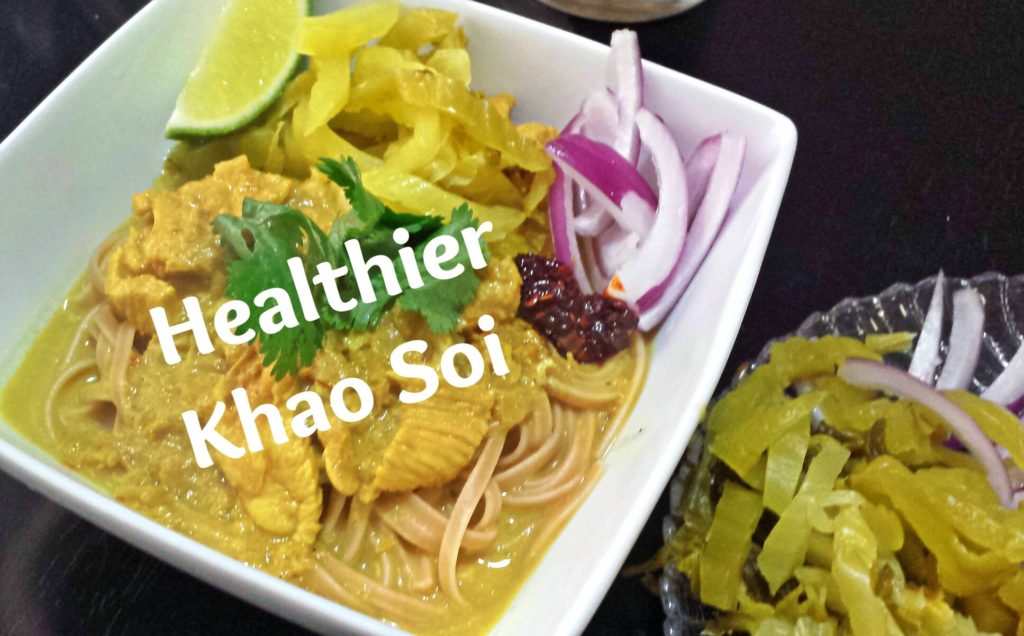 Khao Soi is a noodle dish with a curry soup from Northern Thailand. It is normally served with chicken thigh, braised beef, or meat balls, and this is probably why most people assume that Khao Soi has the influence from Chinese Muslim.
Even thought Khao Soi is very popular in Northern Thailand, but it is really rare to find at the other region in Thailand.
Khao Soi is a mild noodle curry soup. The main flavors are sweet, spicy, and creamy texture from a coconut milk.
Lately, my husband's patient who knows that we have a Thai food blog showed him an article about the dish from Houston Chronicle. He came home and showed me the paper, and he said "Let's go to the restaurant, try the food, and we'll cook it!".
We improved Khao Soi recipe on our way to make it healthier. First, we used a whole wheat linguine instead of egg noodle (click on the hyperlink to see the nutrition facts for each noodle). If you are in gluten free diet, then brown rice noodle is another healthy choice for you. Second, we used chicken breast instead of the drumstick or beef, and the last thing was a lite coconut milk.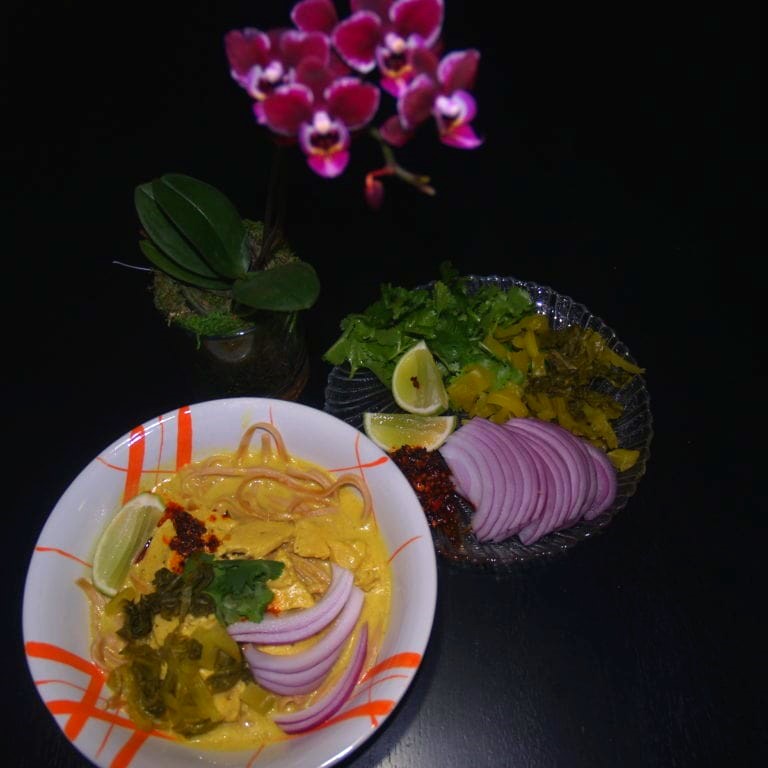 Khao Soi Kai with Toppings
Thanks for checking us out. Please subscribe!
Khao Soi Gai (ข้าวซอยไก่)
Recipe Type
:
Noodle, Main Course
Author:
Prep time:
Cook time:
Total time:
Savory and creamy Thai Northern traditional dish in a healthier version.
Ingredients
Noodle & Curry soup
• 1 LB Sliced Chicken Breast.
• 3 Cups of Lite Coconut Milk.
• ½ Cups of Water.
• 6 OZ. Uncooked Whole Grain Linguine. (Use Brown Rice Noodle for the Gluten free choice).
[br]Yellow Curry Paste
• 1 ½ tablespoon Shrimp Paste.
• ½ tablespoon Curry Powder.
• 1 teaspoon Tumeric Powder.
• 5 Dried Thai Chili.
• 1 tablespoon Sliced Pickle Rhizome.
• 1 tablespoon Minced Garlic.
• 1 tablespoon Sliced Lemongrass.
• 4 tablespoon Sliced Shallot.
• 1 tablespoon Stevia.
[br]Khao Soi Topping (as an optional)
• Sliced Red Onion.
• Sliced Pickled Green Mustard.
• Lime Wedges.
• Chili Oil.
Instructions
To make Khao soi Paste
Add Curry powder, Tumeric powder, Dried Thai chili, Pickle Rhizome, Minced garlic, Sliced lemongrass, and Sliced shallot in mortar.
Pound the ingredients into a paste, then add Shrimp paste and Stevia. Pound and mix all the ingredients together.
[br]To make Curry Soup
Heat a sauce pan with med-high, add 1 cup of Lite coconut milk.
Wait until the lite coconut milk is boiling, then add the Curry paste. Stir the curry paste in the lite coconut milk, so the paste doesn't stick and become a big chuck .
Add the Sliced chicken breast, once you can smell the curry.
Stir the chicken breast with the curry until the meat is cooked.
Add Water and the rest of lite coconut milk. Let the curry soup boil for few minutes, then turn down the heat to low, and let the curry soup sits on the stove about 8 - 10 minutes.
Put the pasta or noodle in a bowl, then pour the curry soup over them. Serve with sliced Red onion, Sliced Pickle mustard, Limes wedges, and Chili Oil.
Serving size:
1
Calories:
400
Fat:
13.5g
Saturated fat:
9.8g
Unsaturated fat:
1.9g
Trans fat:
0.1g
Carbohydrates:
35.2g
Sugar:
2.5g
Sodium:
195.0mg
Fiber:
5.4g
Protein:
32.7g
Cholesterol:
67.1mg
Notes
***** The amount of the topping can be variety; it depends on how much you like them. But lots of sliced pickle mustard is awesome, it makes the dish more tasteful. *****[br][br]***** If you don't have mortar and pestle, you can use a blender. Actually, I recommend to use the blender because it's faster, and the paste is smoother. *****[br][br]***** Cook the Pasta or Brown rice noodle while you're making the curry soup. If the pasta or noodle is cooked before the curry soup, you can add about ½ tablespoon of Olive Oil after rinse water out, so they don't dried out. *****