This post may contain affiliate links.
Century Eggs Brown Rice Congee
The exotic Thai breakfast recipe with the Chinese influence, it has only seven ingredients which are brown rice, water, chicken stock, seasoning powder, century eggs, ginger, and green onions.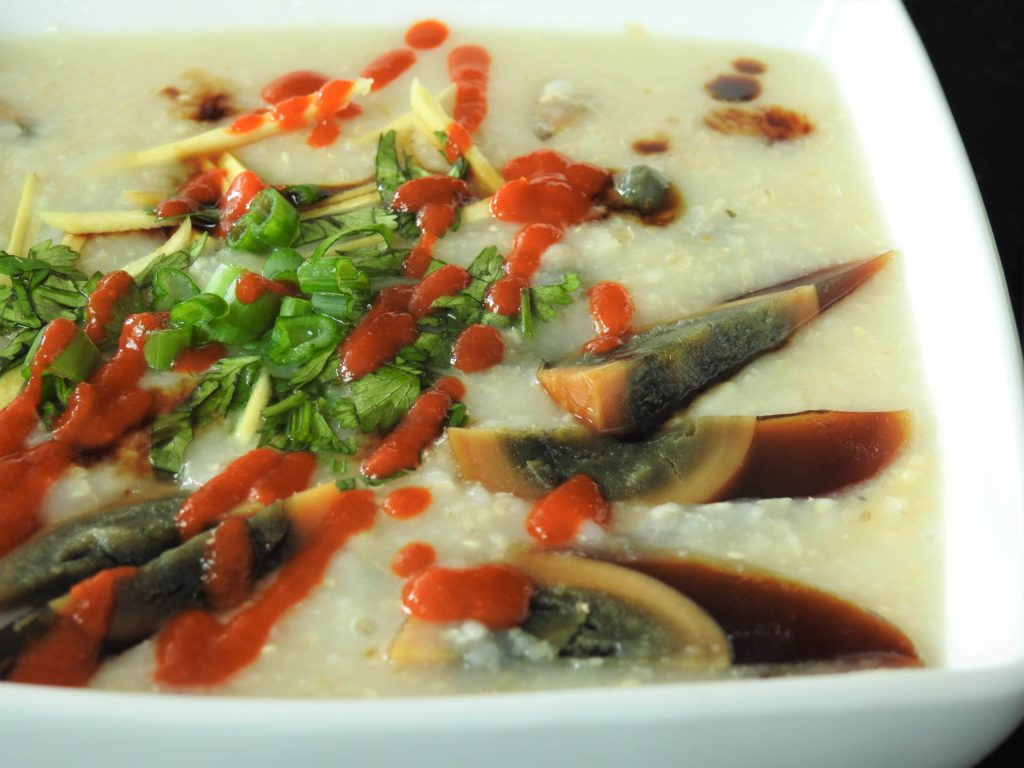 Congee or porridge is a very popular breakfast meal in Thailand. If you're in Thailand and have a chance to walk on the morning market, you'd see at least one or two congee food stand. In Thailand, we call congee or porridge "Chok." Chok is similar to rice soup, but it's thicker, and the rice texture is finer than the rice soup.
Century Eggs Congee's healthy Thai recipes version
Congee is considered as a cheap meal because people usually make with a low-quality rice such as broken rice. The broken rice is a lot cheaper than the regular, full-grain rice. Unfortunately that I couldn't find any broken rice to buy in the U.S., but it couldn't stop me from making the congee. I used cooked brown rice for my congee recipe, and I used the blender to blend the rice until it's smooth. The ratio for mixing the rice is 1 cup of rice and 1 cup of water.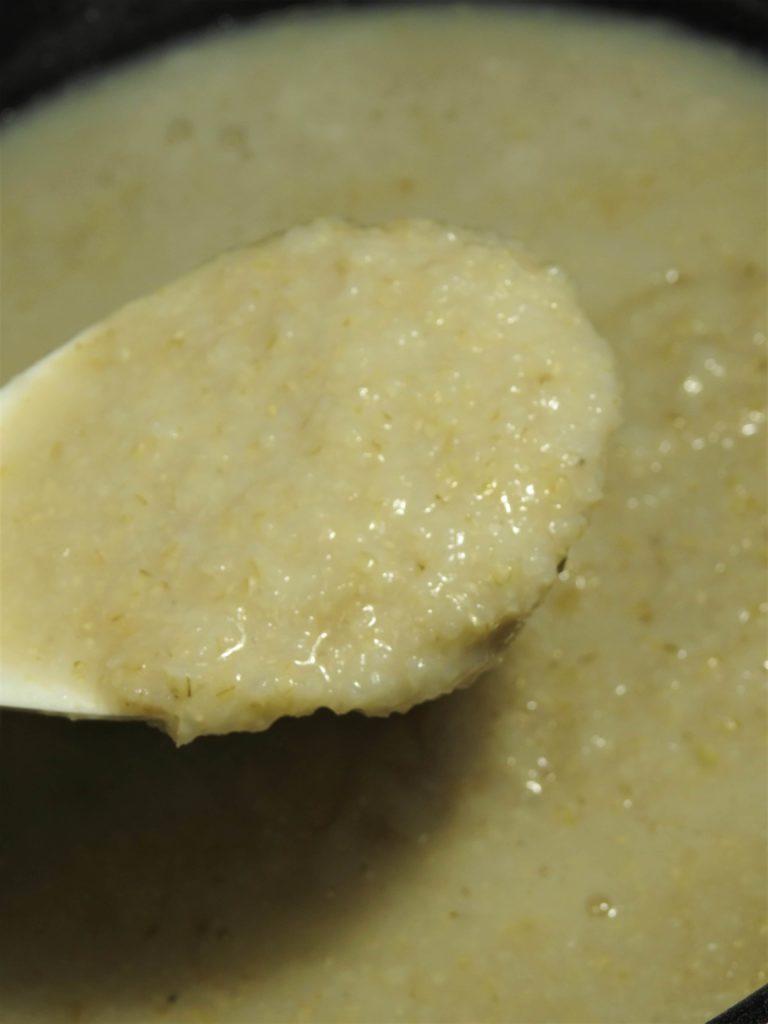 There's no rule for the choice of meat for a congee recipe. You can choose whichever kind of protein you want. I've seen and tried pork, chicken, fish, shrimp, pork stomach, intestine and liver, and century eggs congee, and I like all of them.
Why cooking the congee and why the Century egg?
My husband is so skeptical about white rice. He wouldn't eat it unless he has to. Whenever we happened to be in the Houston China Town area in the morning, I always enjoyed the congee at the Chinese restaurant. I tried to convince my husband to enjoy it with me but no chance because it's made from white rice. So, I dedicated to making congee from brown rice, hoping he'd like it.
I always wanted to cook the century egg. I love the taste and the texture of it. The century egg is a preserved egg that is coated with wood ash, quicklime, and salt. The yolk turns to creamy dark green or grayish color, and the egg white becomes like a thick jelly in an amber color. The egg white of the century egg is the part that I love the most. It's tasteless, but the firm jelly like texture is the best. It goes so well which the soft and mushy congee texture.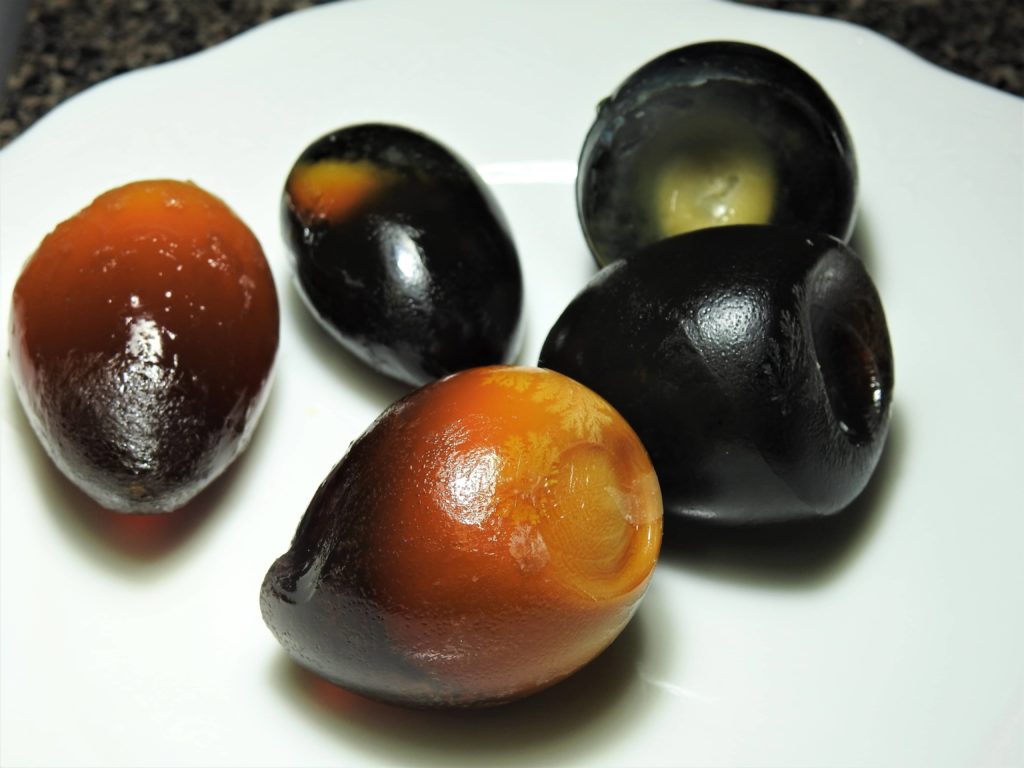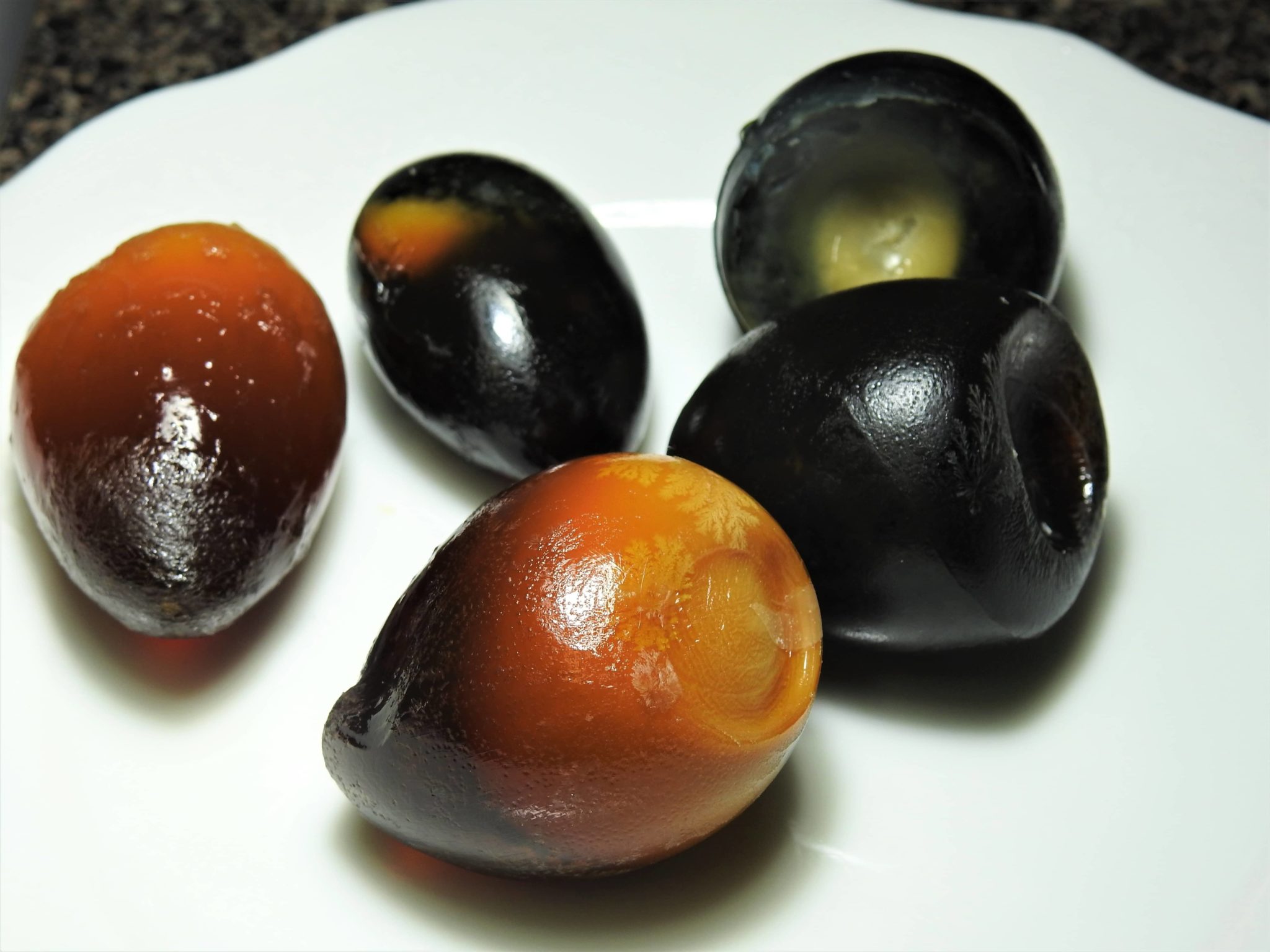 I don't like the yolk so much. It's a little gooey and pungent. However, it's not that bad. I sliced some ginger and green onion and ate them with the congee. These two ingredients solved the problem that I had with the century egg's yolk. They helped the smell and enhanced the taste of the congee. For my personal taste, I added a little bit of seasoning soy sauce and a lot of Sriracha sauce in it.
I ended up with a big pot of congee (too big for two people). I was so afraid that it'd be only me who's going to eat all of that. But it turned out my husband loved it, he even got more. I think he's the one who ate the most in the end.
My mission was completed. I made my husband like the congee as I do. Secondly, I made him try some weird food, and he didn't give me a "Bleh" face instead he got a thrill out of it.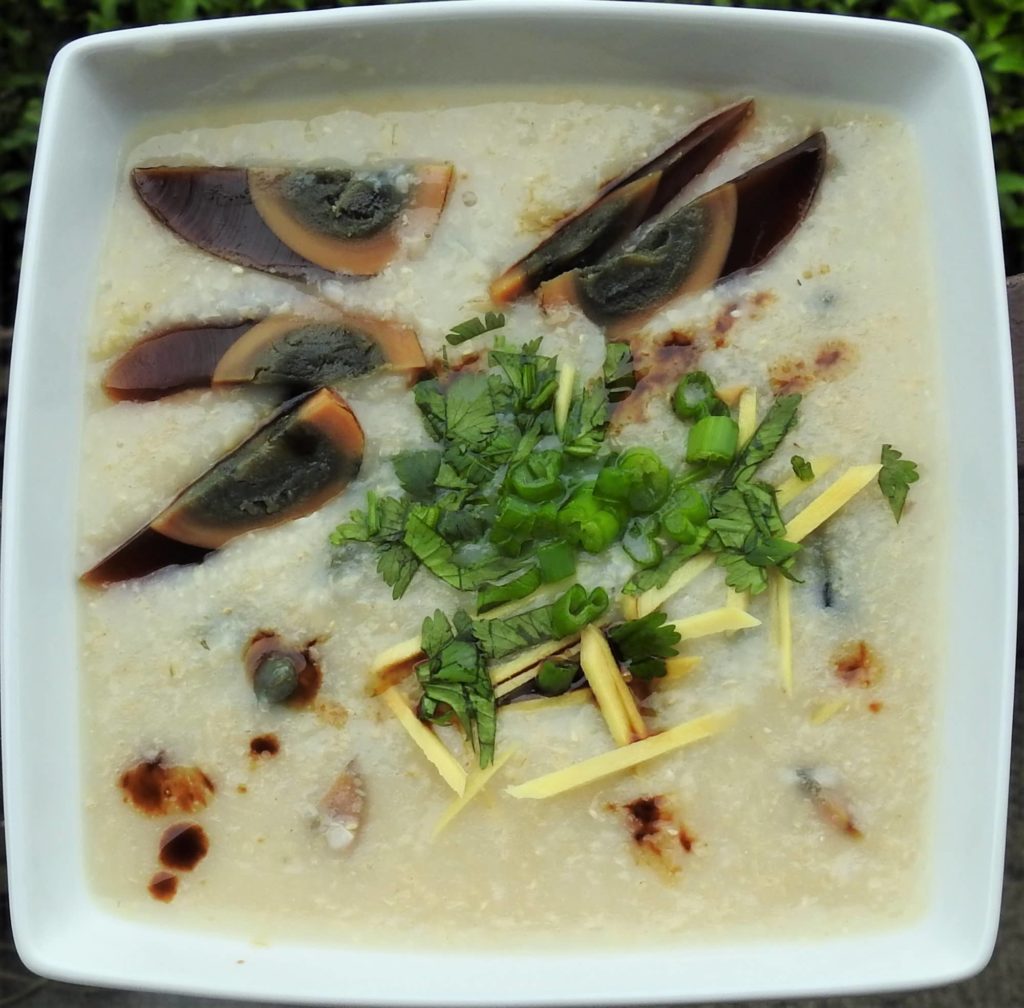 Century Eggs Brown Rice Congee
Author:
7 ingredients healthier congee makes with unrefined brown rice. Make a big pot and heat it up in the morning.
Ingredients
4 cups steamed brown rice
4 cups water
32 oz. low sodium chicken broth
6 Century eggs, cut them into small pieces, save 1 egg and cut it into wedges to put it on top
½ teaspoon seasoning powder (salt substitution)
1 -2 oz sliced fresh ginger
2 chopped green onion
Instructions
Mix brown rice and water together and blend them until their texture become smooth.
Pour the mixture of brown rice and water in a pot, cook it on medium high for 15 minutes.
Keep stirring the pot while cooking, so the rice won't burn at the bottom.
After 15 minutes, turn the stove down to medium and cook it for another 10 minute then add ginger sliced, seasoning powder, and cut Century eggs.
Stir everything together cook for 5 minutes. Turn off the stove.
Put sliced fresh ginger, chopped green onion, and Century egg wedges on top. You may add some Seasoning sauce or Sriracha sauce as you like.