This post may contain affiliate links.
Street tacos are one of the best things about living in the Southern United States.  These Whole Grain Vegetarian Penang Curry Street Tacos and Tostadas combine my favorite elements of my wife's Thai culture with my favorite parts of Texas.   You can, of course, adapt the ingredients however you like.
Typically, you get street tacos from a food truck for about a dollar ea.  You can just eat them outside on a picnic bench, enjoying the mild climate of the south.  There's something super charming about eating for so cheap and easy.  They're also one of those foods that almost everyone can agree on.  I had my first experience with them when I was on a date with a fancy, wealthy lady in Los Angeles and she wanted to pull her convertible Porshe over to pick up street tacos really fast.  We went back to her million-dollar condo and it didn't feel inappropriate at all.  It felt wonderful, in fact.
Using Healthier Ingredients
Typical street tacos are made with flour or corn tortillas.  There are usually really small ones or regular sized ones but the smallest ones have almost exclusively used for street tacos.  Now, Of course, they are way popular so you see them at trendy restaurants and everywhere else too.
Using Whole Grains for the Tortilla
You can argue that a corn tortilla is whole grain and go for that.  I could research it more too and dissect its nutritional info but I won't today.  I also found these cool carb watch, whole grain tortillas at Target.  Either way was delicious, the little corn tortillas are way cheaper.
Using a Healthier Protein
You can use whatever you want for this but I chose a ground beef substitute that happened to be on sale at Kroger for 2 bucks.  I used a pound basically to keep it simple.  If you use something else, make sure it's ground or cut into small enough pieces to accommodate a small tortilla.
Other Ingredients For Street Tacos
Street tacos often come with cilantro and onions, sometimes some tomato, tomatillo sauce, lime and sauce to top.   I used some diced up organic red peppers I got from farm box direct as well in my first version for some color.   In the picture below I show the ingredients I used for the phase two trial with the carb watch tortillas.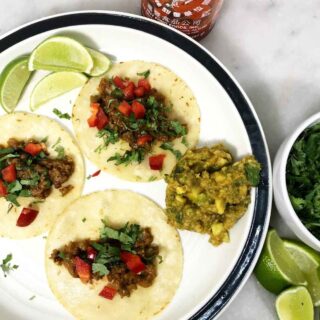 Penang Curry Street Tacos (ทาโก้พะแนงไก่งวงสับ)
Penang Curry Street Tacos are a delicious way to combine Thai food and Street tacos.
Ingredients
1

Pound

Ground Turkey

Fake Ground beef, chicken, turkey, tofurky, whatevs

8

Corn Tortillas

Small

½

Cup

Cilantro

½

Cup

Onions

Sliced

½

Cup

Curry paste

Penang, nutrition calculator doesn't recognize so I just put curry paste

1

tablespoon

Canola Oil

Or Coconut Oil Or whatever lol

½

Cup

Bell Peppers

Chopped

1

Cup

Light Coconut Milk

8

Lime Leaves

Kaffir If possible

½

Cup

Peanuts

Chopped
Instructions
Heat the oil in the wok or skillet on medium high.

Stir-Fry the meat and onions until cooked through.

Add in the penang paste and lime leaves and chopped peanuts and stir-fry until fragrant.

Add in the coconut milk and mix it well.

Plate with the toppings added or on the side.
Notes
Nutrition facts based on an API nutrition calculator and are a rough estimate. 
Nutrition
Calories:
466
kcal
Carbohydrates:
34
g
Protein:
35
g
Fat:
22
g
Saturated Fat:
7
g
Cholesterol:
62
mg
Sodium:
130
mg
Potassium:
646
mg
Fiber:
7
g
Sugar:
4
g
Vitamin A:
5404
IU
Vitamin C:
28
mg
Calcium:
111
mg
Iron:
3
mg