This post may contain affiliate links.
Nam Prik Ong - Thai Lanna Spicy Tomato Dip, Rehabilitated to be Healthier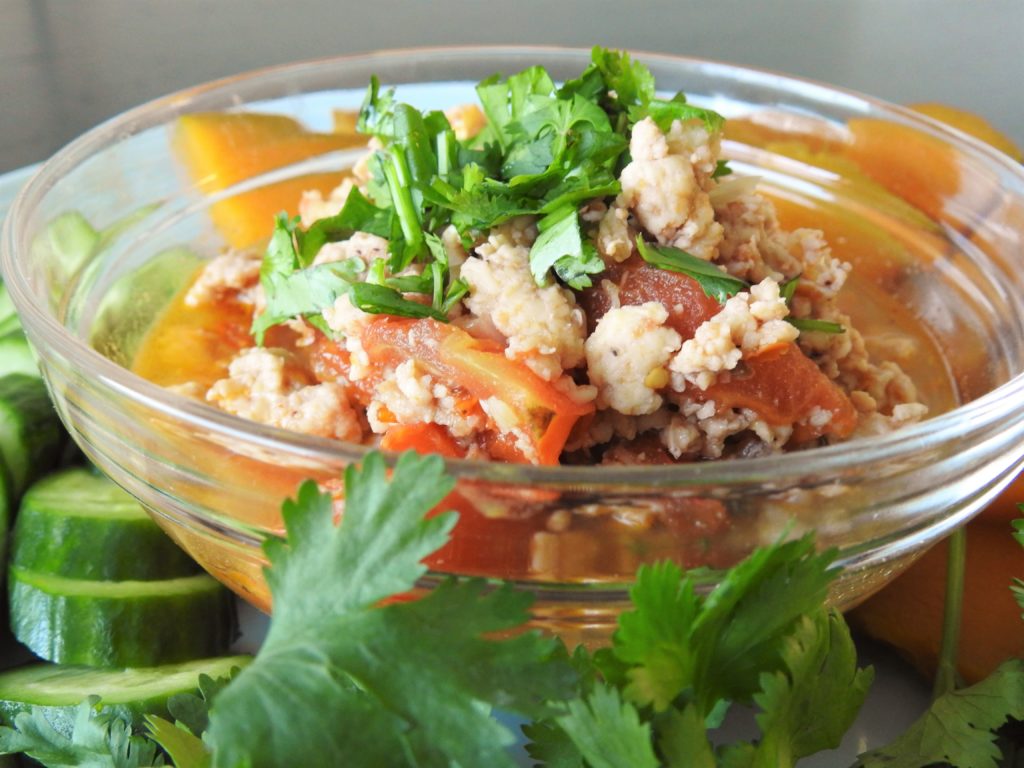 Living far away from my country (Thailand), it's been hard for me sometimes.  Once in a while, I'd be homesick and miss my whole family who is still living in Thailand.  When I talk about homesick is not only the feeling of missing people in my life, but it's including missing the places, lifestyle, and of course food.  Cooking is one the things that I do when I miss my home in Chiangmai, Thailand.  I cook the food that reminds me of my grandma, dad, and mom.   My grandma's Nam Prik Ong (น้ำพริกอ่อง) is one of my favorite foods.  I have never found any place that makes Nam Prik Ong as she did. 
Nam Prik Ong (น้ำพริกอ่อง) is a Northern Thai food. It's a dip that base on Thai dried chili, tomatoes with ground pork. The authentic way to serve this dip is pairing it with sticky rice.  It usually also has fried pork skins, fresh cucumber slices, green beans, Thai eggplants, and steamed vegetables like kabocha squash, Chinese broccoli, Napa cabbage.
Healthier Nam Prik Ong
Grandma's recipe
According to my grandma's Nam Prik Ong recipe, she loved to make it with 30% fat of ground pork.  She claimed that the fat gave the dip some natural juice, and it'd make the food tasted the best.  I was fine with her cooking style until I learned more about nutrition.  I've come to realize that cholesterol isn't my good friend.  For my Nam Prik Ong recipe, I prefer to use the ground chicken for my lean protein choice to cut down the cholesterol and fat.
Preparation
Making Nam Prik Ong is so easy, the first thing you need to prepare is to chop chicken breast into small pieces.  Secondly, is cutting tomatoes into small wedges.  Next, you make the Nam Prik Ong paste.  You pound Thai dried chili, shallots, garlic cloves together with mortar and pestle until they all become a smooth paste.  Then you add shrimp paste and salt and keep hammering it until they blend.
Stir-Frying the ingredients
Heat olive oil in a wok over medium heat and stir fried the Nam Prik Ong Paste.  As soon as you can smell the fragrance of the paste you add the ground chicken breast and stir fry it with the paste.  Keep stir frying the meat, throw in the wedges of tomatoes and cook them until they're soft.  The juice from tomatoes gives the naturally sweet taste to the dip, and that's how you cook Nam Prik Ong!
How to serve Nam Prik Ong
Some people may serve Nam Prik Ong as an appetizer, but I choose to serve it as an entree.  I pair the dip with steamed brown rice and my choice of fresh and steamed vegetables.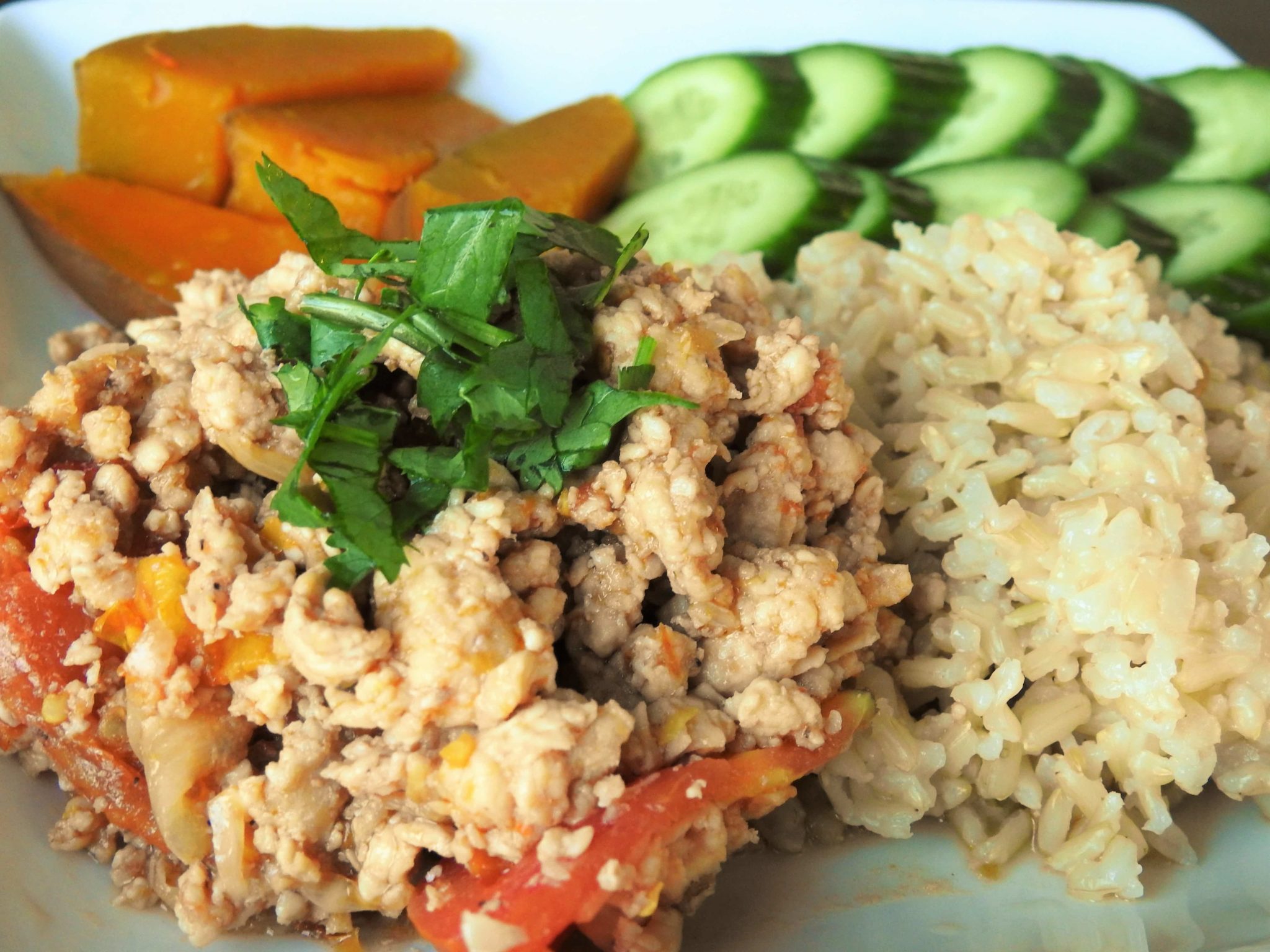 Serving this very Thai recipe to Westerners
One of the more intimidating features of Thai food to Westerners is the shrimp paste and fish paste with its often overwhelming flavor.   Let me tell you about the story of my husband and I.  I was a little nervous to make this recipe; I knew that my husband was not a fan of any shrimp or fish paste.  The night while I was cooking this recipe, he came home and asked what I made?  He said it smelled so good.   Usually, he can sense the shrimp paste in the air and is turned off.  I told him what it was and the ingredients.  He tried the food, and he loved it.  He finished his plate and went to get more.  My husband is not a big eater so whenever he goes for the second round, I know that he absolutely enjoyed that food.
Here's the recipe!
Nam Prik Ong - Thai Lanna Spicy Tomato Dip, Rehabilitated to be Healthier
Author:
Prep time:
Cook time:
Total time:
Ingredients
1.5 lb. ground chicken breast
10 oz. cheery tomatoes, cut half
25 dried Thai chili, put 30 if you like spicy
2.0 oz. shallots
10 garlic cloves
2 tablespoon shrimp paste
1 teaspoon salt
3 tablespoon olive oil
½ cup of water
Instructions
Pound dried Thai chili, shallots, and garlic in a mortar with a pestle until all the ingredients become a paste. Then add shrimp paste and salt into the mortar and keep pounding them together with the rest of the ingredients until the paste is smooth.
Heat olive oil in a wok or a pan over medium heat; stir-fry the paste in the oil for 30 - 50 seconds or just until you can smell the aroma of the paste.
Add the ground chicken into the wok and cook it with the paste. Put the wedges tomatoes in when the ground chicken no longer pink.
Stir fry and let the juice from the tomatoes come out; keep doing it until the tomatoes are soft.
Turn off the stove and serve Nam Prik Ong with steamed brown rice and your choice of vegetables.
Thanks for being interested in Healthy Thai Recipes!  Please subscribe, follow and share our content! 🙂 🙂 🙂
If you like this recipe, you may like
Thai Herb Turkey
Prik Glua, A Healthy Thai Chili Fruit Dip