This post may contain affiliate links.
Healthy Thai Chicken and Brown Rice Soup (ข้าวกล้องต้มอกไก่สับ)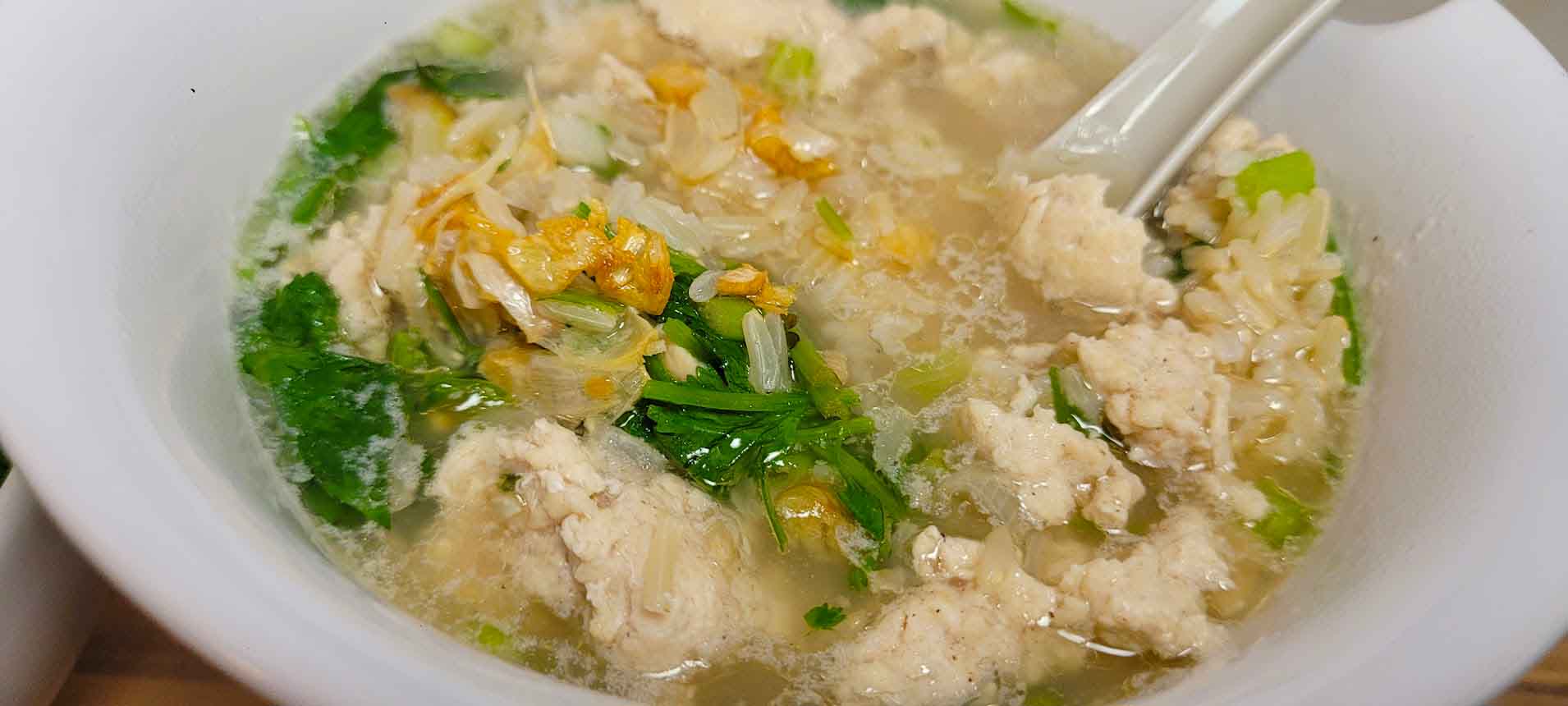 Healthy Thai Chicken and Brown Rice Soup
       Rice soup is always one of my comfort soups especially when I am not feeling good, and this week I've been sick all week. The typical Thai rice soup that I have had always uses white rice which is a simple carbohydrate and pork.  So, I am thinking of how I can make my comfort food in a healthier way, and I have come up with the idea using brown rice and lean chicken instead.
Ingredients :
3 cups of cooked brown rice
13 oz of ground lean chicken, I chopped the chicken myself just to save a few bucks.
2 cups of chopped yellow onion
1 tablespoon of chopped garlic
8 cups of water
4 tablespoon of soy sauce
3 tablespoon of fish sauce
2 tablespoon of olive oil
Instruction :
Heat olive oil in a pan, then add chopped garlic fry till garlic turns to gold color, add chopped onion, cook until it translucent, add ground lean chicken, 2 tablespoon of soy sauce, 1 tablespoon of fish sauce cook until the chicken turns white
Pour 4 cups of water in a pot on medium high heat until it boils, add cooked brown rice, and boil it about 10 - 13 minutes (stir it occasionally, otherwise the rice at the bottom of the pot might be burnt), add another 4 cups of water wait until it boils, add cooked ground chicken into a pot follow with 2 tablespoon of soy sauce and 2 tablespoon of fish sauce, cook it about 5 minutes, and it is ready to serve
My Healthy Thai Chicken and Brown Rice Soup recipe can make 6 servings, and each serving has 253 calories.
I hope you guys enjoy the recipe, and please let me know about how you like or not like my recipe. Any suggestion is very welcome.
Thank you.
Mod 🙂
Healthy Thai Chicken and Brown Rice Soup (ข้าวกล้องต้มอกไก่สับ)
Author:
Ingredients
•3 cups of cooked brown rice
•13 oz of ground lean chicken, I chopped the chicken myself just to save some few bucks.
•2 cups of chopped yellow onion
•1 tablespoon of chopped garlic
•8 cups of water
•4 tablespoon of soy sauce
•3 tablespoon of fish sauce
•2 tablespoon of olive oil
Instructions
•Heat olive oil in a pan, then add chopped garlic fry till garlic turns to gold color, add chopped onion, cook until it translucent, add ground lean chicken, 2 tablespoon of soy sauce, 1 tablespoon of fish sauce cook until the chicken turns white
•Pour 4 cups of water in a pot on medium high heat until it boils, add cooked brown rice, and boil it about 10 – 13 minutes (stir it occasionally, otherwise the rice at the bottom of the pot might be burnt), add another 4 cups of water wait until it boils, add cooked ground chicken into a pot follow with 2 tablespoon of soy sauce and 2 tablespoon of fish sauce, cook it about 5 minutes, and it is ready to serve
Serving size:
1
Calories:
253