This post may contain affiliate links.
Healthier Thai Basil Shrimp Scampi (ไทยสแคมปิกุ้ง)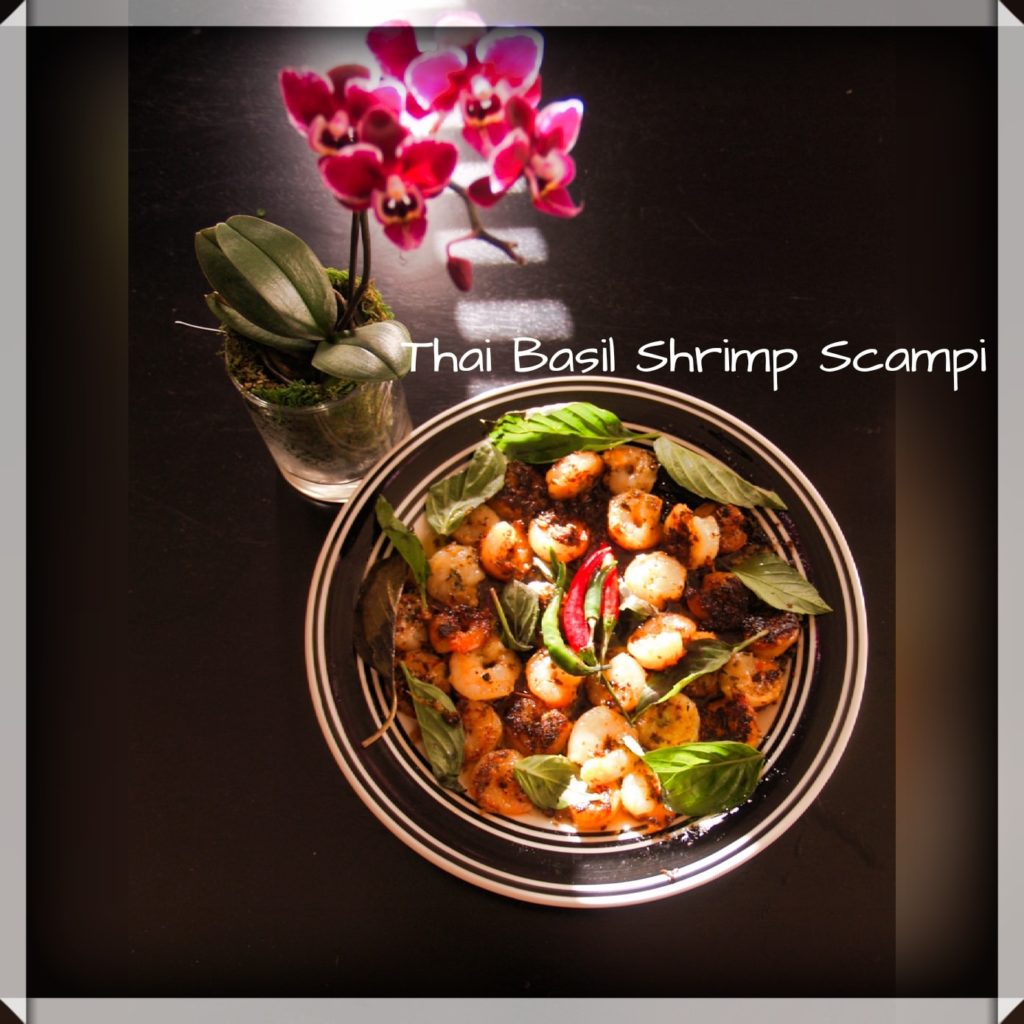 Cooking Thai basil shrimp scampi brought me back to the day that I was young when I was a kiddo my family took me to Galveston, and I had fresh gulf shrimp for the first time in my life and it was like fireworks in my brain for its savory buttery consistency and flavor.   My cousin and I would curl our fingers and give each other a kind of bro symbol and say shrimp afterwards.  The word scampi is a Latin based Italian word that actually means curled.  Scampi also often refers to langoustine, (large prawns) and lobster in garlic butter sauce.
Apparently there is a big push to make prawns and shrimp etc. more popular because they are considered a sustainable seafood and can be farmed unlike a lot of other popular seafood.  To me this is a HUGE, as Trump likes to say, issue and I even have the sticker on my car for the sustainable seafood app.  Typically I think stickers don't belong on cars but this one is a static sticker you can get for free and stick on the inside of your window to help promote the app that helps us keep from supporting unsustainable fishing.
When I looked at the website from Monterrey Bay Aquarium and was disappointed to see that most species of shrimp and prawns are not recommended and it looked like the other articles I read may not have been as accurate a source for what's sustainable.  Another thing I noticed is that non of them really say recommended, they say best choice, good or avoid which sort of says to me that if you're going to do it go this way.  It's based on a lot of variables not just the number of a species in the wild although it is a major variable.
THE CHOLESTEROL ISSUE....  Now I have to address the issue of the cholesterol and that this may not be the best choice for someone with high or borderline high cholesterol and that there may be a better substitution.   One thing I have done in the past which was utterly delicious was use flounder and then just make the scampi sauce first and poor it over the flounder in a oiled skillet and quickly cook over medium high 5-10 minutes until a little blackened.  You will want to know your cholesterol as it is high in this.  That said, there a a lot of really good qualities of shrimp also like the ratio of LDL to HDL and that it's low in calories and a lack of significant levels of saturated fat means that it actually improves the LDL to HDL levels and lowers triglycerides.
Here is the link for shrimp.  http://www.seafoodwatch.org/seafood-recommendations/groups/shrimp?q=Shrimp%20Scampi
Or if you just want to the link to the site to research your choices it is just www.seafoodwatch.org or you can download the app. for android and iOS.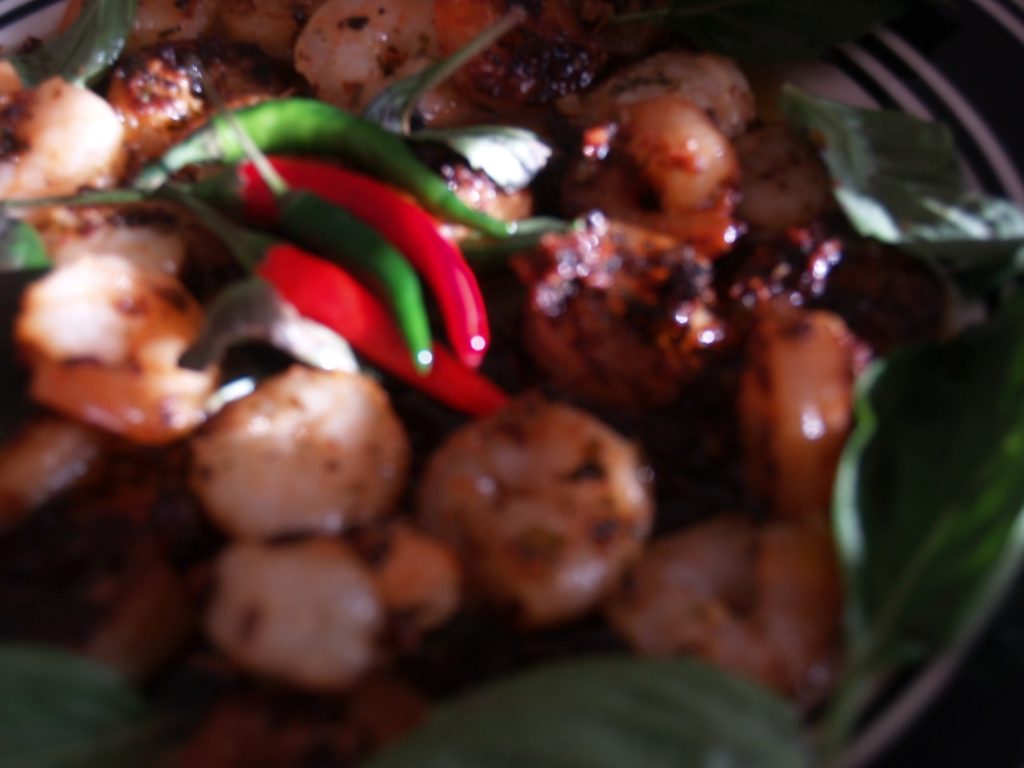 Now there is actually a National Scampi Day celebrating the typical heavenly combination of some percentage of;  Garlic, Lemon Juice, Butter, White Wine which of course we had to slightly modify to make healthier.  For the most part the ingredients are pretty healthy choices although of course butter is always on the evil list so we used an olive oil butter.
Otherwise we left the ingredients mostly the same but we had to add a Thai Flair so we used lemongrass instead of lemon zest and instead of the typical parsley we used cilantro and basil which are more common in Thai food yet complement the lemon and garlic flavor.  We also cooked some whole wheat linguini and made some extra olive oil and minced garlic scampi sauce in case we wanted more or to make it a bit more zesty.  What came out was insanely yummy and we ate it all.
Optionally, Extra Thai Basil Scampi Sauce:  For my scampi I like a bit more sauce occasionally and it also goes well if you or your guests just want the shrimp in a sauce the way the serve it at a Red Lobster which is the way I grew up eating it.  You will want to take a small sauce bowl and heat about a cup of olive oil butter with a tablespoon of minced garlic, and some more fresh basil if you like basil and heat in the stove or microwave until melted.  Squeeze a lemon wedge or two in as well for that twang.  (This can additionally be saved and used for a super quick way to do delicious light and flaky recipes like flounder in 10 minutes.)
Serve either with the shrimp by itself coated in the scampi sauce
or over the whole wheat linguini with your desired toppings.
Additionally, I want to give some lovin' to the blog, give me some oven who posted another skinny shrimp scampi recipe which helped inspire how we did ours.  Here is their recipe if you want to try a more typical American version.   Hopefully they'll reciprocate the lovin!
Healthier Thai Basil Shrimp Scampi (ไทยสแคมปิกุ้ง)
Author:
Prep time:
Cook time:
Total time:
An easy shrimp scampi with the Thai flair that brings Thai and Italian cuisine together.
Ingredients
• 1 LB. of raw shrimp, peeled with tails removed and patted dry.
• 1 Tbsp. olive butter.
• 1 shallot, peeled and thinly sliced.
• 4 cloves garlic, minced.
• 1 tsp. crushed red pepper flakes.
• 1 tsp. salt.
• 1 tsp. black pepper.
• ¼ cup unsalted chicken stock.
• 3 Tbsp. white wine.
• 2 Tbsp. fresh lemon juice.
• 2 Tbsp. lemon grass finely minced or in a paste available at many grocers.
• 8 ounces uncooked whole-wheat pasta.
Instructions
Cook the whole wheat linguini per the instructions on the package, cover and set aside as an option.
Heat butter in a skillet or wok until melted and add the mixture of shallots, garlic and some of the lemongrass and sauté for 2 minutes stirring occasionally. Add the shrimp and coat with the mixture of pepper flakes, salt and pepper and some of the fresh basil. Sauté for an additional 3-4 minute.
Add the unsalted chicken broth, wine, lemon juice and lemon grass, and stir. Cook for a bit longer to reduce and remove from the heat.
Serving size:
1
Calories:
350
Fat:
3.7g
Saturated fat:
0.6g
Unsaturated fat:
1.3g
Trans fat:
0.0g
Carbohydrates:
44.8g
Sugar:
2.8g
Sodium:
753.6mg
Fiber:
7.2g
Protein:
34.7g
Cholesterol:
212.6mg
Notes
****Toppings: chopped fresh basil and cilantro and (optional) freshly grated Parmesan cheese, Thai peppers and fresh basil leaves to garnish.****