This post may contain affiliate links.
Pork Chops Thai Basil Style (หมูอบใบกะเพรา)
Pork is the other white meat and it is certainly used a lot in all Asian cuisines although you won't find it farther to the west as much.  My wife can never pass up a pork chop and I have to admit after a lot of exercise I crave a lot of meat and she made me this last week and I ate two pieces before I went to bed and felt like a whole man afterwards whereas before I felt kind of puny and weak after a hard workout.
This is a super easy recipe if you live next to a grocery store that has pre seasoned pork chops and chicken buy one get one free almost all year like we do.  I came up with some of this recipe from other recipes I've seen but I added what I like from typical Thai ingredients including the basil and avocado which after having a lot of Thai food with my wife I have come to favor.
Ingredients:
Thai basil wok oil sprayable and  1 -4 tablespoons of extra virgin olive oil depending on how much oil you like, I like a lot.  Good oils actually do your body good.  See my Amazon ingredients for Thai basil wok oil in the sprayable can.
A couple of chopped jalapeno or Thai peppers or both fresh and fresh chopped.
However many pork chops you want pre-seasoned or you can put whatever seasoning salt do you like on both sides to prepare it.
Fresh Thai basil, one cluster.
Medium spicy or however spicy you like it, peanut sauce.
Directions:
Heat the skillet on medium-high heat and Spray thoroughly, I do mean thoroughly, with the basal wok oil.
Cut as much of the fat off the pork chop as possible and season with your seasoning salts or rub of choice.  Cook the pork chops flipping often for 10 minutes.
Once they are cooked thoroughly through to your preference put them on a plate and cover them to retain the heat.
Next, spray more oil or add olive oil if you prefer as well as the chopped peppers and a little bit of the peanut sauce and if you want garlic cloves also. Cook until it all cooked together into a sauce and then pore artistically over the pork chops on the plate.
Using cooking scissors or at least clean scissors cut the Thai basil over the pork chops.
Presentation ideas:
For presentation I am in love with avocados so I sectioned avocados and place them artistically around the plate for effect.
Serve hot and fast if possible and enjoy.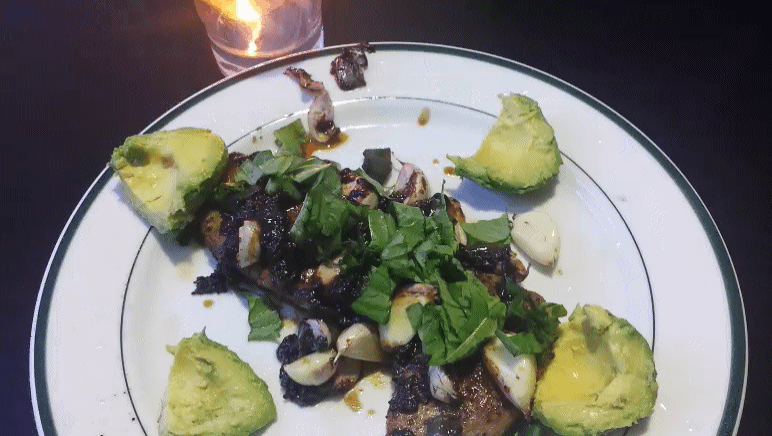 Just a fun fact:  If you are ever eating dinner out with us and for whatever reason you are betting on what my wife will pick off the menu and they have pork chops, pick that and you are sure to win.  I guess she grew up with the things, I don't know but she never passes one up so I guess I am going with the flow here and trying to make it as healthy as possible.