ฉันกินปลานิลร้อนๆ เป็นครั้งแรกที่ร้านอาหารเม็กซิกันในครอสบี รัฐเท็กซัส ชื่ออีกัวน่า โจส์ ฉันดูว่ามีเวอร์ชั่นภาษาไทยหรือไม่และไม่ได้มีเฉพาะซีฟู้ดที่ร้อนแรงใช่ ดังนั้นหลังจากค้นคว้า ฉันจึงรวมคู่เข้าด้วยกันและได้สิ่งนี้ขึ้นมา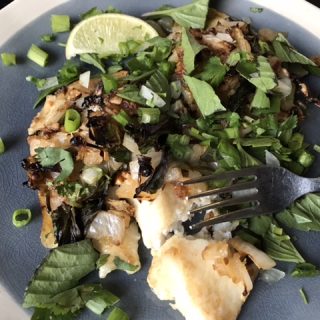 Sizzling Tilapia
I had sizzling tilapia for the first time at a Mexican Restaurant in Crosby, Texas called Iguana Joes.  I looked to see if there is a Thai version and there isn't exactly but of sizzling seafood yes.  So after researching I combined a couple together and came up with this.
Ingredients
4

Tilapia Fillets

Boneless if possible
For the paste
1

tablespoon

Coriander

Seeds

3

tablespoon

Garlic

Minced and fresh if possible

2

tablespoon

Lemongrass

Chopped

1

tablespoon

Thai peppers

Chopped
Other ingredients
1

tablespoon

Oyster Sauce

1

tablespoon

Soy sauce

Lite

3

tablespoon

Canola oil

1

Cup

White onion

Chopped

1

teaspoon

Black pepper

½

teaspoon

Stevia

½

teaspoon

Salt

½

Cup

Butter

Alternative, healthier butter if possible
Toppings/ For serving
1

Cup

Thai basil

Fresh with leaves plucked off

1

teaspoon

Fish sauce

1

Cup

Green onions

Chopped

3

tablespoon

Wine

Rice or white wine

1

Lime

Cut into thin wedges
Instructions
In a mortar with pestle or in a food processor make the paste ingredients into a paste.

Heat the oil in the wok over medium heat.

Stir-fry the paste until it is fragrant, then stir in the onion, some of the basil leaves, oyster sauce, soy sauce, stevia and black pepper and stir-fry until well mixed together and set aside.

Melt the butter alternative and place on the cooking sheet and coat the pan evenly.

Place the tilapia fillets on the cooking sheet spaced evenly.

Add the topping you made with the wok on top of the fillets covering evenly. Alternatively, you can flip the fish while cooking and add the topping at the end.

Bake on the middle rack for 15 minutes checking and flipping if you can without messing it up to make sure it does not burn.

Serve with remaining toppings and rice or whatever you choose for your side dishes.
Notes
As always, our nutrition facts were calculated by a computer api and some ingredients were not exactly calculated, there was no lite soy sauce or alternative butter option so values will be slightly better with those corrected.  If you have any special nutrition concerns you should always check it out with your physician as your situation is fact dependent.  Our healthy Thai recipes are as healthy as we can make them using what we know. We are not dietitians or nutritionists so follow up with a specialist if needed and let us know what we can do better in the comments section below.  🙂 
Nutrition
Calories:
504
kcal
Carbohydrates:
21
g
Protein:
43
g
Fat:
29
g
Saturated Fat:
3
g
Cholesterol:
85
mg
Sodium:
880
mg
Potassium:
774
mg
Fiber:
2
g
Sugar:
3
g
Vitamin A:
626
IU
Vitamin C:
25
mg
Calcium:
111
mg
Iron:
4
mg
ถ้าคุณชอบสูตรนี้ คุณอาจชอบหนึ่งในสูตรเหล่านี้
สูตรนี้ได้รับแรงบันดาลใจจากสองสูตรที่ยอดเยี่ยมต่อไปนี้
https://schoolofwok.co.uk/tips-and-recipes/seafood-pad-cha-ta-lay-pad-cha
https://www.myrecipes.com/recipe/sizzling-flounder