5 Ingredient Easy Spicy and Sour Instant Pot Thai Yellow Curry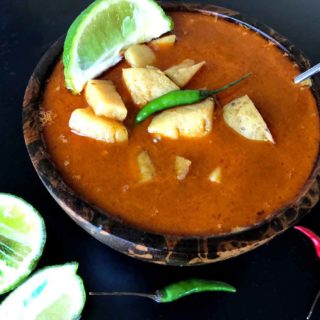 Author:
HealthyThaiRecipes
Recipe type:
Instant Pot Soup
1
4 ounce can of Maesri yellow sour curry paste
1-2 cups potatoes, cut into bite-sized pieces
2 tbsp olive or canola oil
2 cups water
1 lime cut into wedges for garnish *optional
Thai peppers for garnish *optional
1 can lite coconut milk *optional
Turn the instant pot onto saute mode and add the oil.
Once the oil is heated add the yellow sour curry paste.
Saute the paste until fragrant and then add the potatoes and continue sauteing until the potatoes are slightly softened.
Add the water before the paste starts to burn and mix well.
If you already know you don't want it very spicy go ahead and add the lite coconut milk now, otherwise you can wait and taste it after the pressure cycle to see if you like the heat or not.
Make sure the pressure valve is shut and seal the lid.
Push the cancel button and then select the pressure button.
Close the lid and allow the machine to go through its cycle.
Taste to see how you like the flavor and if it's too spicy like it was for us, add the coconut now. You can always add more so do it a bit at a time.
Once it's how you like it you can add the juice from the lime and garnish.
Recipe by
Healthy Thai Recipes
at https://healthythairecipes.com/spicy-and-sour-instant-pot-thai-yellow-curry/