Cray Cray Crayfish Coconut Curry, (Thai Style) Over Rice (แกงแดงครอว์ฟิช)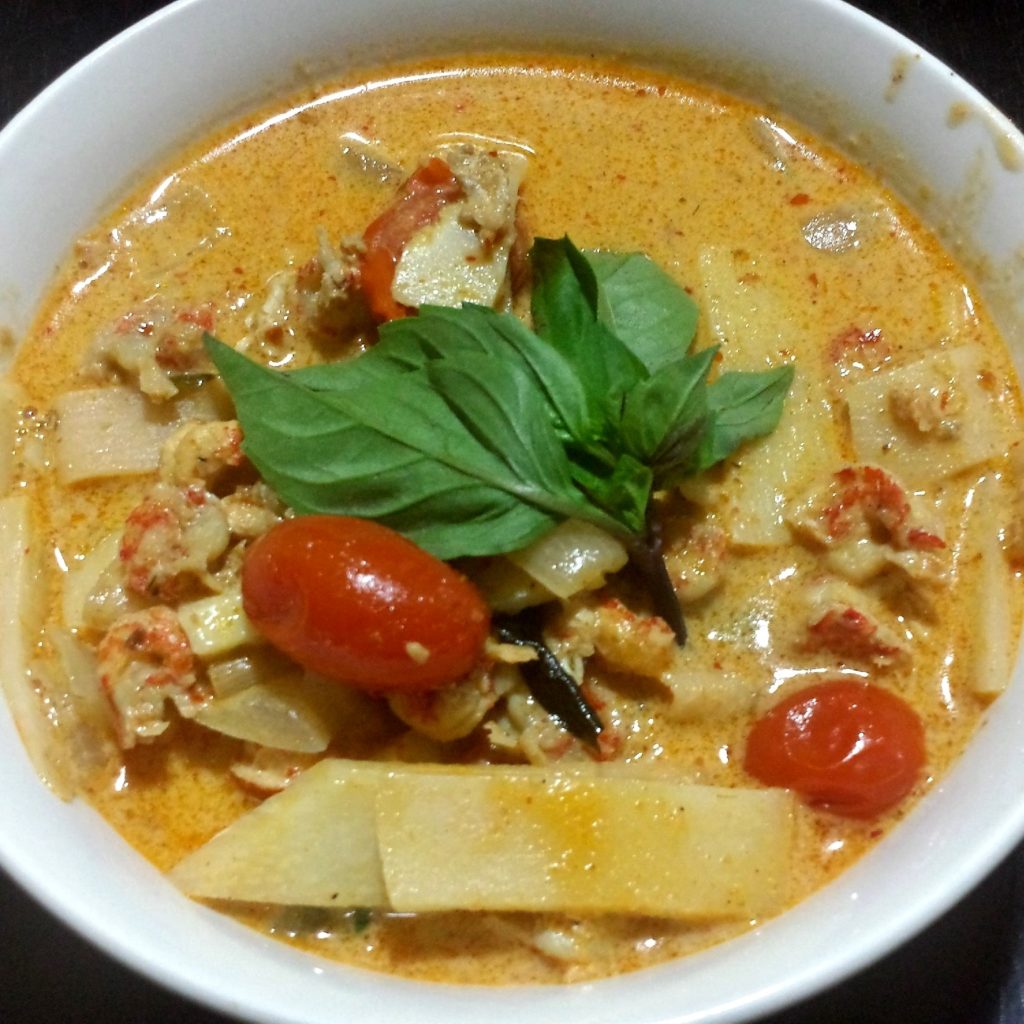 Author:
HealthyThaiRecipes
Recipe type:
Entree, Curry
• 1 package crawfish tail meat, (about 0.75 lbs.)
• 3 tbsp red curry paste.
• ½ tsp salt.
• ¼ tsp black pepper.
• ¼ tsp chili powder.
• 2 tbsp of olive oil.
• 1 medium diced onion.
• 5 finely chopped garlic cloves.
• 2 tbsp fresh basil.
• 1 can lite coconut milk, (about 13.5 fl.oz.)
• 2 tbsp Stevia.
• 1 tsp freshly grated ginger.
• 2 tbsp lime juice.
• ½ cup water.
• 1 cup cut half cherry tomatoes to be added at the end (They're freaking delicious by the way if you get these kind, try not to eat them all before you're done.)
In a large wok stir fry the curry paste using the olive oil.
Add in ½ of the can of coconut milk.
Add the crawfish tails and continue cooking.
Add the rest of the coconut milk and ½ cup of water and bring to a boil.
Add the rest of the spices and vegetables except for the stevia and tomatoes and continue cooking until the bamboo shoots are soft.
Add the tomatoes and stevia and taste and add more spice per your taste.
Serve over the rice garnished with a sprig of the fresh basil and with the cherry tomatoes for presentation.
Serving size:
1
Calories:
177
Fat:
8.1g
Saturated fat:
1.0g
Unsaturated fat:
6.1g
Trans fat:
0.0g
Carbohydrates:
9.5g
Sugar:
3.9g
Sodium:
756.6mg
Fiber:
3.2g
Protein:
15.3g
Cholesterol:
115.0mg
Recipe by
Healthy Thai Recipes
at https://healthythairecipes.com/crawfish-coconut-curry/