Thai Red Curry and Buckwheat Noodle Soup Recipe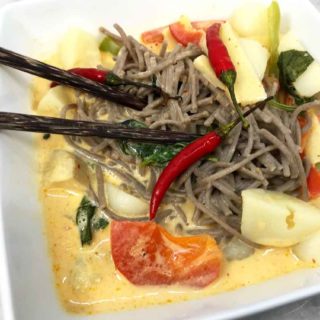 Author:
HealthyThaiRecipes
2 tbsp olive oil
1 package of buckwheat noodles
3 tbsp red curry paste
1 sliced king mushroom or 1 cup whatever type mushrooms
2 bell peppers sliced
20 oz. sliced canned bamboo shoots
 28 oz. lite coconut milk
2 cups water
16 oz. fish balls sliced or whatever protein you prefer
1 cup basil leaves
1.5 tbsp fish sauce
1 tsp stevia
Thai peppers for garnish
For the noodles:
Cook per the instructions on the package and set aside
For the soup:
In a large wok, pan or skillet heat the oil on medium high.
Add the curry paste and stir-fry until fragrant.
Add in the protein and stir fry for about a minute.
Add ½ the coconut milk and stir together for about another minute.
Add in the vegetables and other ingredients other than the coconut milk and stir in.
Add the rest of the coconut milk and cook for a few more minutes and serve over the noodles!
Garnish with Thai peppers for color.
Recipe by
Healthy Thai Recipes
at https://healthythairecipes.com/thai-red-curry-and-buckwheat-noodle-soup-recipe/