Stuffed Bitter Melon Soup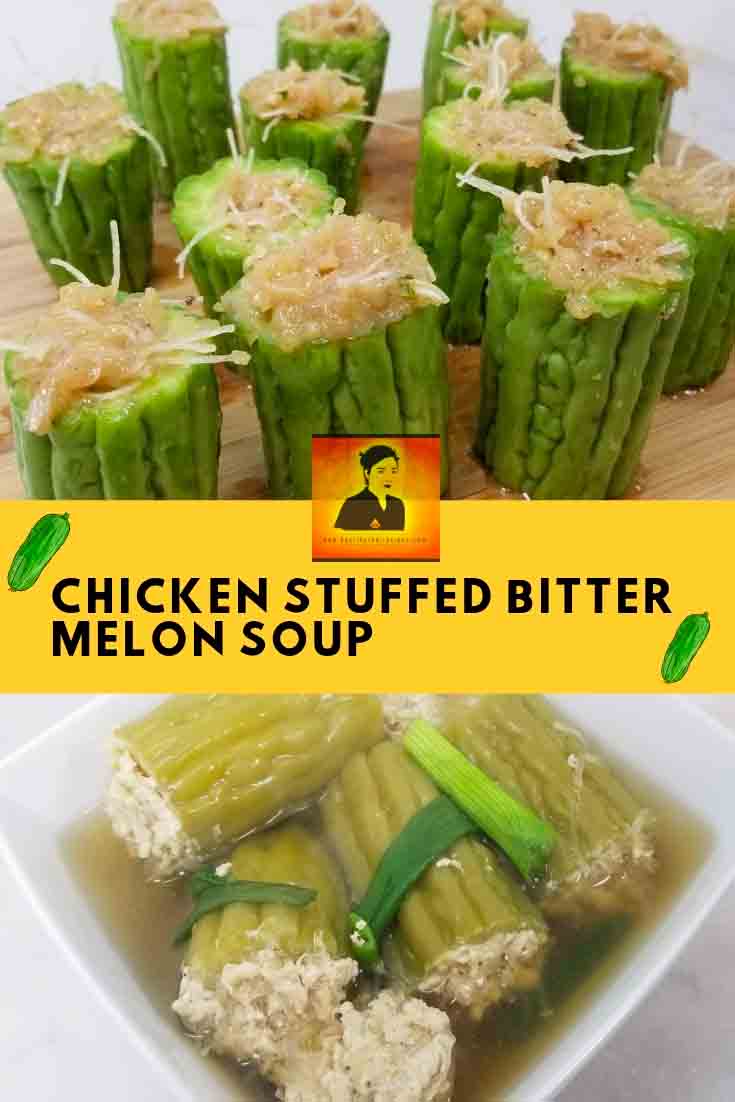 Author:
HealthyThaiRecipes
Soup
4-5 bitter melon
4 green onions, cut 2 inches long
32 oz low sodium chicken broth
4 cups of water
2 tbsp low sodium soy sauce
½ tbsp fish sauceStuffed Chicken
1 lb ground chicken breast
1 small bundle of glass noodles, soaked in water for few minutes and cut it about 1 inch
4 garlic cloves
2 tbsp cilantro, stem only
1 tsp white pepper
1 tbsp sesame oil
1 tbsp low sodium soy sauce
Instructions
Cut bitter melon into 2- 2½ inches long. Use a small spoon take the white foaming texture inside the bitter melon out.
Soak them in salt water while you're preparing the chicken stuffed. This will decrease the bitterness of the bitter melon.
Use pestle and mortar or a blender to smash or blend garlic and cilantro together, do it until they have a smooth texture.
Put the ground chicken breast in a big mixing bowl then add the garlic and cilantro mixture, glass noodles, white pepper, sesame oil, low sodium soy sauce into the bowl.
Mix all the ingredients together.
Fill the bitter melon with the chicken stuff.
Turn a stove on high heat, add the chicken broth and water into a big pot.
When the broth is heat, slowly add the stuffed bitter melon into the pot and follow. Cook until the bitter melon is soft. When the bitter melon is cooked, its color will change from bright green to yellow to greenish.
Season the soup with low sodium soy sauce and fish sauce and add the green onions and cook it for few minutes then turn off the stove.
Serve the soup with steamed brown rice or any kind of rice of your choice.
Recipe by
Healthy Thai Recipes
at https://healthythairecipes.com/stuffed-bitter-melon-soup/