Whatever You Have Instant Pot Panang Curry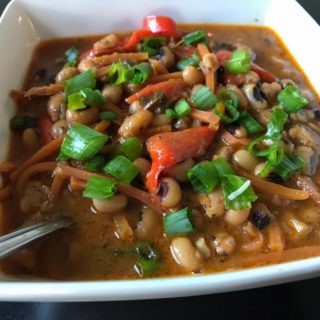 Author:
HealthyThaiRecipes
2 tbsp panang curry paste
1 can lite coconut milk
1 cup protein, I used dried black-eyed peas
½ cup each of two vegetables, I used shredded carrots and bell peppers
2 tbsp canola, coconut or olive oil
chopped green onions and or kaffir lime leaves for garnish
First, you add the oil and saute the curry paste and saute until it's fragrant on the saute setting.
Add ½ can of the light coconut milk and stir.
Add approximately 1 cup of whatever protein you want and stir it in as well.
Add the other half of the can of coconut milk and then use then fill the can with water and add it to the pot, stirring it in with the stevia.
Close the pot and the venting nozzle so you can pressure cook it by hitting the pressure cook button.
Garnish and serve.
Recipe by
Healthy Thai Recipes
at https://healthythairecipes.com/whatever-you-have-instant-pot-panang-curry/