Lazy Khao Soi- Easier to Make and Still Amazing Rich Flavors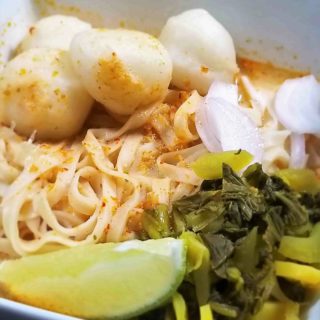 Author:
HealthyThaiRecipes
1 package of dry egg noodles, about 1 lb.
2 lbs. fish balls
3 cans of lite coconut milk
2 tbsp yellow curry paste
4 tbsp red curry paste
4 tbsp olive oil
1 tbsp brown sugar
3 tbsp fish sauce
7 cups of water
10 oz. mustard green pickle, washed and sliced
2-3 thin sliced shallots
lime wedges as you need
chili oil, if you want to make it spicer
Soak the dry egg noodles in cold water for 2-3 minutes, then boil it until it's cooked.
Rinse the water out and stir the noodles with 1 tbsp of olive oi.
Add olive oil in a big pot, and follow with the yellow and red curry paste on the high heat.
Stir fry the paste until it turns slightly brown, then add 1 can of coconut milk and cook until it boils.
Add the rest of coconut milk and water, wait until the curry boils then add the fish balls in the curry.
Simmering the curry until it boils.
To serve the Khao Soi:
Put the egg noodles in a bowl and top with sliced mustard green pickle, shallot, and squeeze of fresh lime juice.
Pour the curry over the noodles, then it's ready to eat.
Preparing the mustard green pickle.
Open the package and rinse off the liquid in the package.
Wash the pickle and squeeze the water out of it, then slice it.
Recipe by
Healthy Thai Recipes
at https://healthythairecipes.com/easy-khao-soi/