Thai Herb Soup, A Low Calorie Yet Delicious Soup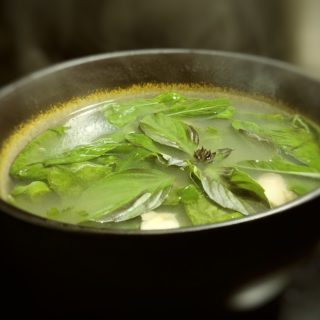 Author:
HealthyThaiRecipes
1 teaspoon olive oil
1 pinch of pepper
⅓ cup lime juice
4 tablespoons minced garlic
4 chopped small mushrooms
8 cups low sodium broth
½ cup cilantro
½ cup basil or Thai basil
2 tablespoons stevia
½ cup baby spinach (optional)
Low sodium fish sauce and or soy sauce to taste
Place the olive oil in a saucepan and saute the garlic, peppers and mushrooms.
Add the broth and simmer for 16 minutes.
Add the stevia and simmer for 15 more minutes.
Turn the burner to low and serve with the herbs on the side as an option if you want to enjoy the soup like they do at Pho restaurants or just add it in otherwise.
Recipe by
Healthy Thai Recipes
at https://healthythairecipes.com/thai-herb-soup-low-calorie-yet-delicious-soup/