Strawberry Peach Shrimp Thai Salad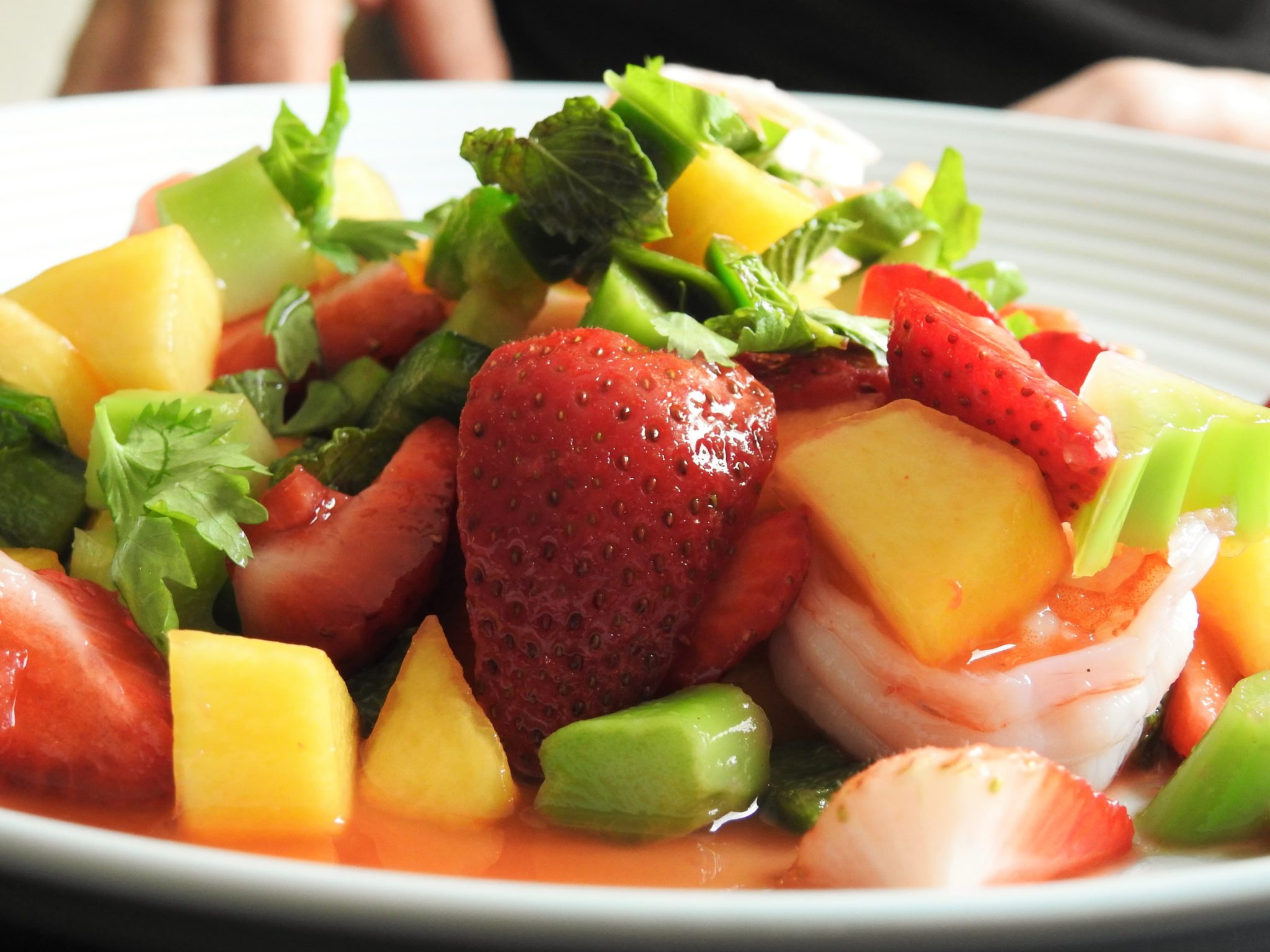 Author:
HealthyThaiRecipes
• 10 oz. large shrimp (about 20 counts)
• 1 lb. fresh strawberry
• 3 fresh peaches
• 1 cup broccoli stalks
• 2 unseeded dice jalapeno
• ½ cup mint leaves
• 3 stalks green onion cut them in 1 cm.
• 4 ½ tbsp lime juice
• 3 tbsp fish sauce
• 1 tsp Truvia
• a pinch of salt
Add lime juice, fish sauce, Truvia, and a pinch of salt in a small bowl and mix them together.
Stir till the Truvia and salt dissolve with lime juice and fish sauce
Wash broccoli stalks and cut them into one cm. long. Boil the broccoli in a mall pot. Let it boil for a couple minutes, rinse the hot water and transfer the broccoli to a small bowl and fill the bowl with some ice cubes and cold water. To keep the broccoli stalk crunchy.
Clean the shrimp, take the shell and take the vein out. Filling water into the same pot. Heat the pot and add cleaned shrimp when the water is boiling. Turn off the stove when the shrimp is cooked (white opaque) and rinse off the hot water. Set it aside.
Wash and cut strawberry (4 pieces for 1 strawberry).
Wash and peel peach's skin and cut them into small pieces (bite size).
Add all the salad ingredients (shrimp, strawberry, peach, broccoli stalk, unseeded jalapeno, mint leaves, green onion) in a large mixing bowl and pour the dressing over the salad ingredients. Mix them well.
Now, it's ready to serve.
Thank you
"MaeBan"
for the inspiration. :)
Avoid the jalapeno if the spiciness is not friendly to you.
Serving size:
1
Calories:
213
Fat:
2.7g
Saturated fat:
0.1g
Unsaturated fat:
0.3g
Trans fat:
0.0g
Carbohydrates:
27.0g
Sugar:
16.4g
Sodium:
1560mg
Fiber:
4.4g
Protein:
25.1g
Cholesterol:
198.0mg
Recipe by
Healthy Thai Recipes
at https://healthythairecipes.com/strawberry-peach-shrimp-thai-salad/