Thai Glass Noodle Salad with Shrimp and Ground Chicken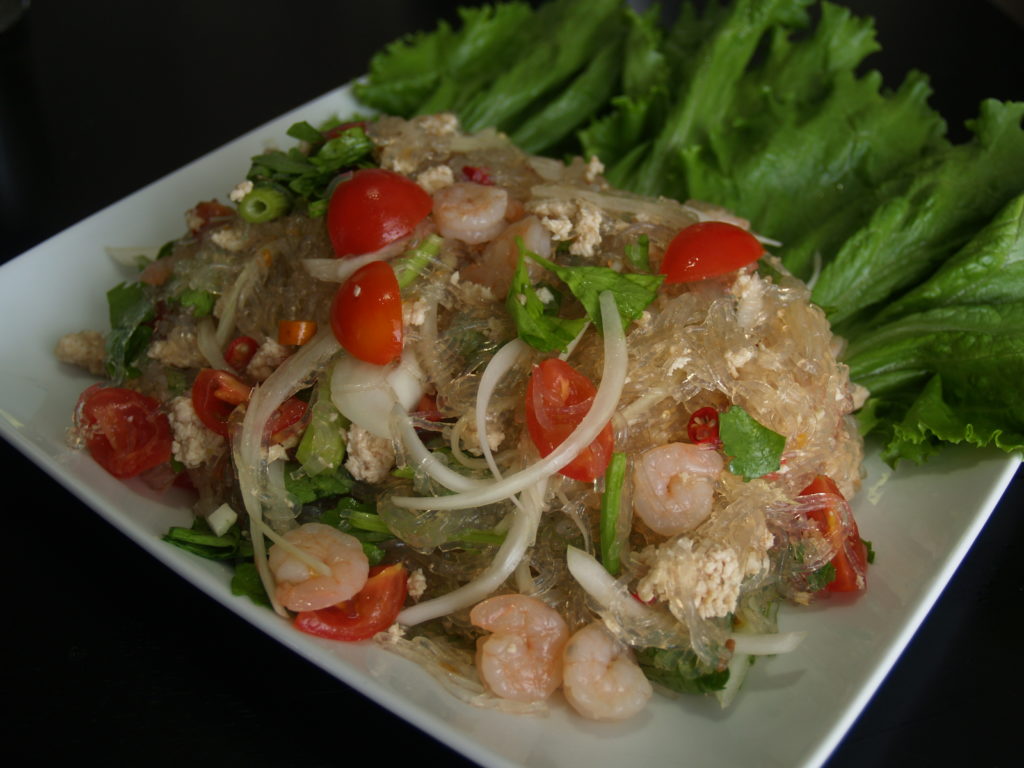 Author:
HealthyThaiRecipes
Heat water to boiling glass noodles, wait until they almost cooked. Then add ground chicken, stir the chicken in the boiling water, so they don't become like a big chunk or chicken ball. When the ground chicken changes color to white opaque, then add shrimp. Turn off the stove when the shrimp color changed.
Drain hot water from the cooked glass noodles, ground chicken, and shrimp. Wash and drain them with cold water, and put them in a mixing bowl.
Put Thai chili, fish sauce, soy sauce, seasoning sauce, and lime juice in a small bowl, and mix them together.
Back to the salad mixing bowl that we put cooked glass noodle, ground chicken, and shrimp in it. Add tomatoes, chopped Chinese celery, and sliced onion; follow with the salad dressing that prepares earlier.
Toss them well. Serve on a plate with lettuce or enjoy the salad itself.
Thai glass noodle salad needs to be eaten immediately after all the ingredients mix, but that's not a problem. You can prepare all the ingredients, and when it's time to serve the food, all you need to do is just pour the dressing in the rest of the ingredients and toss them. Ready to serve!
Serving size:
1
Calories:
597
Fat:
5.4g
Saturated fat:
2.2g
Unsaturated fat:
0.0g
Trans fat:
0.0g
Carbohydrates:
71.6g
Sugar:
13.1g
Sodium:
4402mg
Fiber:
3.0g
Protein:
67.3g
Cholesterol:
232.2mg
Recipe by
Healthy Thai Recipes
at https://healthythairecipes.com/thai-glass-noodles-salad-with-ground-chicken-and-shrimp/